Apple TV+ Series 'The Morning Show' Nominated for Several SAG Awards
Apple TV+ series "The Morning Show" has been nominated for three Screen Actors Guild Awards for outstanding male actor and outstanding female actor.
Steve Carell and Billy Crudup, who play Mitch Kessler and Corey Ellison, respectively, have been nominated for the Outstanding Performance by a Male Actor in a Drama Series award.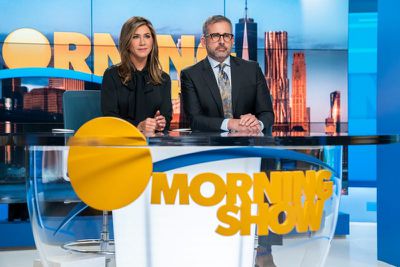 The two will be competing against Sterling K. Brown (Randall Pearson) from "This Is Us," Peter Dinklage (Tyrion Lannister) from "Game of Thrones," and David Harbour (Jim Hopper) from "Stranger Things."


Jennifer Aniston, who plays Alex Levy, was nominated for Outstanding Performance by a Female Actor in a Drama Series. Reese Witherspoon, who plays Bradley Jackson in "The Morning Show" was not nominated.
Aniston will be competing against Helena Bonham Carter (Princess Margaret) and Olivia Coleman (Queen Elizabeth II) from "The Crown," Jodie Comer (Villanelle) from "Killing Eve," and Elisabeth Moss (June/Offred) from "The Handmaid's Tale."
Apple has also received several Golden Globe Award nominations for "The Morning Show," including a nomination for best drama series. Both Reese Witherspoon and Jennifer Aniston have been nominated for best actress in a drama series Golden Globe awards as well.
Apple is competing against HBO's "Big Little Lies" and "Succession," BBC America's "Killing Eve," and Netflix's "The Crown" for the best drama series Golden Globe award.
The SAG Awards are given by the Screen Actors Guild and they are considered one of the major award events in Hollywood. The Golden Globe Awards, also considered a major award event, are decided on by the Hollywood Foreign Press Association.
The SAG awards will take place on Sunday, January 19, 2020, while the Golden Globes will be held on Sunday, January 5, 2020.
Both the Golden Globes and the SAG Awards will be followed by the Academy Awards, given by the Academy of Motion Picture Arts and Sciences. Nominations for the Academy Awards, which will be held on February 9, have not yet been announced. SAG and Golden Globe nominations are often predictors of Academy Award nominations, though.
"The Morning Show" is the only one of Apple's TV shows to receive award nominations in 2020, and it is the series with the most notable cast. Prior to launch, "The Morning Show" received less than stellar reviews from critics, but it has fared better with audiences.