Black Friday retail shopping is well underway across the country today, but those who prefer online shopping already know that many of the best deals can be bought without leaving your home, and some notable offers are available only online.

Note: MacRumors is an affiliate partner with some of these vendors. When you click a link and make a purchase, we may receive a small payment, which helps us keep the site running.
For that purpose we've created this post to round up all of the best online-only bargains this Black Friday, offered by well-known brands like Anker, Aukey, Incipio, Griffin, and many more.

Anker
Wireless Charging Mats
Portable Batteries
Charging Cables and Hubs
Audio
Miscellaneous
Pad & Quill
Pad & Quill kicked off its Black Friday event earlier in the week, offering 35 percent off an assortment of accessories. You can stack this with the MacRumors exclusive promo code MACR10 to get an additional 10 percent off, totaling 45 percent off for these items.


This sale includes leather bands for Apple Watch, iPad Pro cases, iPhone 11 cases, MacBook Pro cases, and the TechFolio Travel Cord Organizers.

Mujjo
On Mujjo, you can save 25 percent sitewide from Thanksgiving on November 28 through Tuesday, December 3. With this sale, you can get 25 percent off all products on Mujjo's website by using the coupon code #25off during the checkout process. Mujjo offers a variety of leather accessories and cases for Apple products including iPhone and iPad.

CalDigit
CalDigit has 15 percent off store-wide this Black Friday, when using the code BFRIDAY. This sale will run through December 3, and the coupon code is applicable to most products store wide, with some exceptions.


Some ideas of savings include the Tuff nano USB-C Portable SSD (512GB) for $127.46, down from $149.95, and the Thunderbolt Station 3 Plus for $238.99, down from $279.99. These sales and more can be found on CalDigit's website.

Lifx
Smart lighting company LIFX has a collection of Black Friday deals, with up to 43 percent off various lighting bundles. You can also save on individual LIFX bulbs and the LIFX Z light strip.

Nomad
Nomad has a quite a few discounts going on this year, with sales that offer between 10 and 70 percent off select accessories.
Notable discounts include 20 percent off the Base Station ($79.95), 20 percent off iPhone 11 cases, 30 percent off Nomad's Steel Band for Apple Watch ($83.95), 50 percent off the Stand for Apple Watch ($19.95), and 70 percent off Nomad's rugged Lightning Cable.
You can head to Nomad's website and click to its various Black Friday sales by following the link at the top of the home page.

Twelve South
Twelve South has accessories like the Journal for MacBook, PowerPic, HiRise Duet, and more on sale for Black Friday.

Journal for MacBook - $79.99 (Save $90)
AirFly Classic - $34.99 (20% Off)
PowerPic - $44.99 (Was $79.99)
HiRise Duet - $44.99 (55% Off)
Nimble
Environmentally friendly accessory company Nimble is offering 30 percent off sitewide.
This includes the company's 10,000 mAh ($79.95); 13,000 mAh ($89.95); 20,000 mAh ($99.95); and 26,800 mAh ($129.95) portable chargers.


For wireless chargers, there is the Wireless Pad ($49.95), Wireless Convertible Stand ($59.95), Wireless Dual Pad ($69.95), and Wireless Travel Kit ($79.95).
Nimble also has various sales on bundled-together accessories, all of which you can find on its website.

Speck
Today Speck has 40 percent off sitewide, which includes Speck's cases for the iPhone and MacBook, and many more accessories.

Newegg
Any PC gamers or PC desktop users should check out Newegg today, which has Black Friday discounts on laptops, monitors, memory, graphics cards, motherboards, video game consoles, wireless headphones, and much more.

Olloclip
At Olloclip you can save up to 60 percent on camera lens attachments and cases for your iPhone.

Other World Computing
OWC has up to 50 percent off Apple's Beats headphones, as well as the HomePod in White for $228.88.


Of course, you can also purchase memory upgrade at OWC at a discount today, perfect for Apple's iMac line. The retailer also has a few discounts on previous generation MacBook and MacBook Pro models.
For the full list of OWC Black Friday deals, visit the company's website.

Lenovo
Lenovo will have a handful of PC and laptop discounts, as well as travel accessories. You can get the Lenovo 13-inch Ultra Slim Laptop Sleeve for $13.99 (regular $21.99), 15.6-inch Laptop Backpack for $16.99 (regular $34.99), and LeGrand USB-C Power Bank for $59.99 (regular $74.99).
Other sales include smart home accessories, like the Lenovo Smart Plug for $7.99 (regular $29.99), Smart Bulb for $7.99 (regular $29.99), and Smart Tab M10 for $169.99 (regular $249.99). Lenovo's sales include a Sneak Peek weekend from October 21 through November 4, and then its online Black Friday event will kick off on Thanksgiving day, and extend through Saturday, November 30. Cyber Monday deals should be detailed soon as well.

Luna Display and Astropad
Luna Display will be offering 30 percent off and free shipping on Black Friday through Cyber Monday on December 2. There will not be any code required to access the sale, so just head to Luna Display's website on Black Friday to take advantage of the discounts.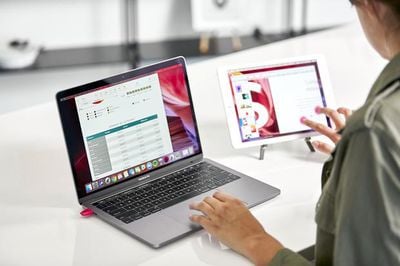 Similarly, you can save $30 on your first year of Astropad Studio (plus a 30-day free trial) on Black Friday through Cyber Monday. This offer is only valid for subscriptions purchased through the Astropad site.

JBL
Bluetooth speaker company JBL has up to 50 percent off audio devices today, with sales on headphones, speakers, sound bars, and more.

Mophie
Mophie is offering 40 percent off sitewide this weekend.

Fuse
Cable organization accessory maker Fuse will offer a 30% discount on a few accessories during the entire week of Black Friday.


The sale will begin Monday, November 25 and last through Cyber Monday. Fuse's products include the Side Winder, Side Kick, and a right-angle USB-C cable.

DJI
Drone maker DJI is set to kick off a big Black Friday sale on its online store for United States and Canada starting on November 24 and lasting through December 4. Sales will hit the Osmo Pocket, Mavic 2 Pro drone, and more.


We've listed a few discounts below, but be sure to head to DJI's store to browse the full sale before it kicks off on the 24th.
Osmo Pocket - $309, down from $399
Osmo Action - $279, down from $379
Mavic 2 Pro - $1,379, down from $1,729
Mavic 2 Pro+ - $1,779, down from $2,199
Tello Iron Man Edition - $89, down from $129
Goggles Racing Edition - $449, down from $549
Sonos
Sonos.com will host a Black Friday sale starting midnight on November 28 and running through December 2. This event will see a few products discounted by 20 percent, including the Sonos Playbar, Amp, Beam, and more.

Save $120 on Amp (Black Friday price: $479, regularly $599)

Save $80 on Beam (Black Friday price: $319, regularly $399)
Besides Sonos.com, you'll be able to find these discounts at a few select retailers across the United States on Black Friday as well.

Ultimate Ears
Popular Bluetooth speaker company will have a handful of devices on sale for Black Friday and Cyber Monday. Check out the sales below (prices will be valid November 24 through December 7):

BOOM 3 - $119.99, down from $149.99

MyBOOM 3 - $149.99, down from $179.99
MEGABOOM 3 - $169.99, down from $199.99
MEGABLAST - $199.99, down from $249.99
Pixelmator
Pixelmator's apps will be discounted on Black Friday this year, including Pixelmator Pro for $29.99, down from $39.99. This sale starts on Tuesday, November 26 and ends on Tuesday, December 3.
You'll also be able to get Pixelmator Photo for free for 24 hours, starting Tuesday, November 26 and ending on Wednesday November 27 at 9 a.m. ET.

Flexibits
All Flexibits apps will be on sale for 20 percent off for a limited time, starting Monday, November 25 and ending on December 9.
Fantastical 2 for Mac - $39.99, down from $49.99
Fantastical 2 for iPhone - $3.99, down from $4.99
Fantastical 2 for iPad - $7.99, down from $9.99
Cardhop for Mac - $15.99, down from $19.99
Chatology for Mac - $15.99, down from $19.99
As you shop around today, be sure to read over our full Black Friday Roundup to keep track of the best deals.