Apple Employees Testing Apple Arcade Ahead of Launch
Apple Arcade, Apple's upcoming subscription-based gaming service, was first introduced in March and is set to launch this fall.
Ahead of the upcoming launch, Apple has debuted an early access program for its employees, with screenshots and details shared by 9to5Mac this morning. Apple employees are able to access ‌Apple Arcade‌ for $0.49 per month, with a one month free trial available.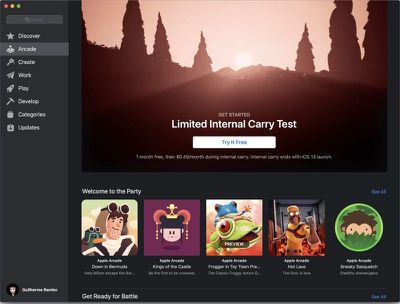 ‌Apple Arcade‌ games will be available on the Mac, iOS App Store, and Apple TV, with the screenshots shared today sourced from the Mac App Store. The ‌Apple Arcade‌ tab in Apple's App Stores will feature a selection of highlighted games and different game categories.
Many of the games in development for ‌Apple Arcade‌ have been previously announced, but here are a few Apple is highlighting, along with their descriptions:
Way of the Turtle: "Play as two curious turtles lost on a cursed island in the middle of nowhere. Obtain shells containing special powers such as dash and attack to defeat enemies and overcome different challenges."

Down in Bermuda: "Adventurous aviator Milton left his loving wife and daughter to voyage across the Atlantic on the journey of a lifetime."

Hot Lava: "Hot Lava transports you back to your childhood imagination. Relive those moments of excitement, joy and chaos. Run, jump, climb and surf in first person across nostalgia-packed environments flooded with hot molten lava."
According to 9to5Mac, most of the games right now are still in-development builds, and other titles available to employees include "Sneaky Sasquatch", "Kings of the Castle", "Frogger in Toy Town" and "Lame Game 2."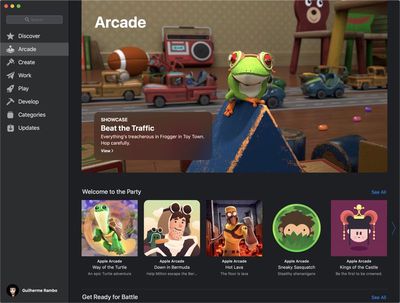 Apple hasn't shared details on what ‌Apple Arcade‌ will be priced at when it debuts, but it looks like there may be a one-month free trial available for those who would like to try it out.
Apple has said there will be somewhere around 100 games at launch, with no ads and no additional in-app purchases. A single subscription will also allow for up to six family members to access games.
There's no word on when ‌Apple Arcade‌ will launch, but the internal employee test is set to end when iOS 13 launches, so that could potentially be when ‌Apple Arcade‌ will be made available.
For more on ‌Apple Arcade‌, make sure to check out our Apple Arcade guide.