Apple Music Launches 'Digital Masters' Initiative Out of Old 'Mastered for iTunes' Program
Apple Music today announced a new initiative called the "Apple Digital Masters" program, which aims to combine all of its "Mastered for iTunes" songs into one streaming catalog (via Billboard).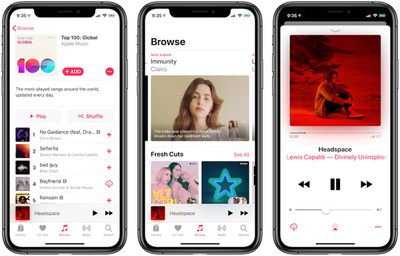 According to Apple, it's slowly been introducing Mastered for iTunes songs into ‌Apple Music‌ for some time. The company said that 75 percent of the Top 100 songs in the U.S. are Apple Digital Masters, and 71 percent of the Top 100 global songs are also part of the new program.
Apple began the Mastered for iTunes program in 2012, allowing engineers to optimize music for the digital download format by encoding from high-resolution masters. This placed the iTunes songs as close to possible as the original master recordings, and were designated specially as "Mastered for iTunes" in the store.
In ‌Apple Music‌, Apple doesn't designate whether a song is under its Digital Masters program or not. Still, for people who care about lossless audio, it's a good sign that the company has formally acknowledged a plan to move forward with adding more high-quality audio tracks to ‌Apple Music‌.
Numerous other streaming music services have lossless audio plans that are priced separately from the standard streaming tiers. Namely, Tidal offers a HiFi subscription for $19.99/month (compared to the base $9.99/month plan) that lets users stream lossless audio on demand.