iPhone XS Max Signal Strength Compared to OnePlus 7 Pro and Samsung Galaxy S10
The Samsung Galaxy S10 and the new OnePlus 7 Pro are both flagship smartphones that are designed to compete with the iPhone XS Max, and to see how their LTE chips compare, PCMag teamed up with Cellular Insights to test the signal strength of the new devices.
Apple's ‌iPhone‌ XS Max is equipped with an XMM7560 modem chip from Intel, while the Galaxy S10 and the OnePlus 7 Pro are using Qualcomm's X24 modem, which theoretically offers better performance.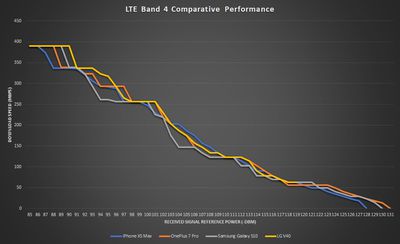 ‌iPhone‌ XS Max in blue, OnePlus 7 Pro in orange, Samsung Galaxy S10 in gray, and LG V40 in yellow


The Intel XMM7560 modem in the ‌iPhone‌ XS Max supports supports 5-carrier aggregation but offers 1Gb/s maximum theoretical data transfer speeds, while the Qualcomm X24 in the Galaxy S10 has max theoretical speeds of 2Gb/s (it uses 7-carrier aggregation) and the OnePlus 7 Pro has max theoretical speeds of 1.2Gb/s (lower because it uses 5-carrier aggregation like the ‌iPhone‌).
In testing on LTE band 4 with good signal, there wasn't a lot of difference in performance between the ‌iPhone‌ XS Max, the newer smartphones from Samsung and OnePlus, and the LG V40, which PCMag added in because it was 2018's best performing phone in terms of cellular speed.
All of the smartphones performed similarly, but the Samsung Galaxy S10 did see some of the slowest speeds, and at peak signal, the ‌iPhone‌ XS came in behind the OnePlus 7 Pro and the LG V40.
In a test with poorer LTE signal, the ‌iPhone‌ XS Max saw the slowest speeds and was outperformed by all of the Qualcomm chips. The ‌iPhone‌ XS Max was quite a bit slower than the Galaxy S10 and the OnePlus 7 Pro specifically.


Starting in 2020, Apple is no longer going to use Intel chips and is instead going to transition to Qualcomm's 5G chips. Intel has decided that it's exiting the 5G smartphone modem chip business leaving Apple no choice but to rely on Qualcomm technology and perhaps some chips from Samsung.
Apple and Qualcomm recently settled a vicious legal battle which had seen Apple refusing to use Qualcomm chips. Because of the dispute, Apple used Intel chips in the 2018 iPhones, and is expected to continue to use Intel chips for the 2019 iPhones.
Though the legal battle is over, Apple isn't likely to have time to swap over to Qualcomm modem chips for the 2019 iPhones, and Intel has confirmed that it's going to continue to supply 4G chips to meet its current obligations.