AirPlay 2 and TV App Now Available on Samsung Smart TVs
With the launch of iOS 12.3, both AirPlay 2 and the new Apple TV app are available on compatible Smart TVs, Samsung announced today.
All 2019 Samsung Smart TVs and select 2018 TV models with a firmware update will be able to access ‌Apple TV‌ channels and iTunes movies and TV shows through the TV app and will support ‌AirPlay‌ 2. Samsung says that the TV app offers content in more than 100 countries, while ‌AirPlay‌ 2 is available in 176 countries.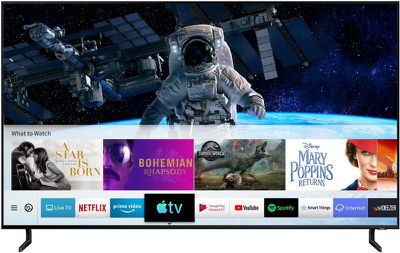 On compatible Samsung TVs with the Smart TV platform, users are able to select the ‌Apple TV‌ app icon to access their Apple content. With the Channels feature in the ‌Apple TV‌ app, Samsung users can subscribe to services like HBO, Showtime, Starz, and more, and watch content from those services directly in the ‌Apple TV‌ app.
Samsung users will also have access to more than 100,000 TV shows and movies to buy or rent from iTunes, including content that's available in 4K HDR.
"For the last decade, Samsung has been at the forefront of offering the broadest selection of content available to consumers on our Smart TV platform," said Won-Jin Lee, Executive Vice President, Visual Display Business at Samsung Electronics. "As the first TV manufacturer to integrate the Apple TV app on a Smart TV platform, Samsung continues to offer our customers incredible value and access to the Apple TV app experience on the largest screens available today."
The TV app available on Samsung Smart TVs will allow Apple customers who are already in the Apple ecosystem to access their previously purchased content without needing to have an ‌Apple TV‌ set-top box, which is a first.
All iTunes content and other content from an iPhone, iPad, or Mac can also be AirPlayed right to a Samsung TV for the first time, making it easier to get content from Apple devices to the TV. Samsung TVs compatible with ‌AirPlay‌ 2 and the TV app are listed below:
- Samsung FHD/HD 4, 5 Series (2018)
- Samsung QLED 4K Q6, Q7, Q8, Q9 Series (2018 & 2019)
- Samsung QLED 8K Q9 Series (2019)
- Samsung The Frame Series (2018 & 2019)
- Samsung The Serif Series (2019)
- Samsung UHD 6, 7, 8 Series (2018 & 2019)
Samsung says that the ‌Apple TV‌ app will "work seamlessly" with other Smart TV services, including Universal Guide, Bixby, and Search for a consistent experience across Samsung's platform.
Samsung is the only TV manufacturer that's getting the TV app at the current time, but other smart TVs are gaining ‌AirPlay‌ 2 support. It's likely we'll be hearing about ‌AirPlay‌ 2 compatibility from Vizio, LG, and Sony now that iOS 12.3 with ‌AirPlay‌ 2 support and the new ‌Apple TV‌ app has officially launched.
Other TV sets are also expected to integrate with HomeKit, allowing users to control them via Siri commands and through the Home app, but this is not a feature that is coming to Samsung TVs.