Apple Shipped an Estimated 4.5 Million iPhone XR Devices in North America in Q1 2019
Apple's $749 iPhone XR was the top selling smartphone in North America during the first quarter of 2019 according to new smartphone shipment data shared today by Canalys.
Apple shipped over 4.5 million ‌iPhone‌ XR devices during the quarter, and it made up 13 percent of total North American shipments. Samsung's Galaxy S10+ and Galaxy S10e were the other two most popular smartphones in Q1 2019, accounting for 6 percent of shipments each.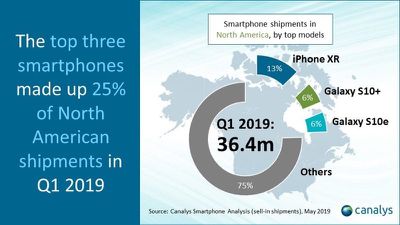 Though Apple's ‌iPhone‌ XR was the top selling smartphone in North America during the quarter, Apple still saw a 19 percent drop in year-over-year shipments.
Apple shipped 14.6 million devices in Q1 2019 in total, compared to 17.9 million devices shipped during the first quarter of 2018. Despite the drop, Apple managed to maintain 40 percent market share in North America, one of the regions where it sees strong performance.

Apple's fall in Q1 followed particularly high shipments of flagship iPhones in the previous quarter," said Canalys Research Analyst Vincent Thielke. "But there was a disconnect between channel orders and consumer demand, which then caused early shipments in Q1 to be challenging for Apple. But moving into March, we did see an uptick in iPhone XR shipments, an early sign that these challenges may be starting to ease at home. Apple has shown how vital trade-ins have become by moving the mechanism to the front and center of its ordering process, and it now frequently uses the net price in its flagship iPhone marketing. The momentum of trade-in promotions in Q2 and Q3 will determine the extent to which Apple can counter negative market forces, such as longer device lifecycles. But the key challenge in coming months remains that its latest iPhones are just not different enough, though new ones are on the way. For its performance to improve in 2020, Apple will need to emphasize radical new features that are most likely to impress consumers."
Samsung shipped 10.7 million devices for 29.3 percent market share, while LG shipped 4.8 million devices and Lenovo shipped 2.4 million devices. Overall North American smartphone shipments were down an estimated 18 percent during Q1 2019, totaling 36.4 million shipments.
Canalys believes that in order to better compete in 2020, Apple will need to launch devices with "radical new features" that will better appeal to consumers. Thus far, rumors suggest Apple's 2019 iPhones will be largely similar to the 2018 iPhones, but with major camera improvements that could draw in upgraders and new customers and better compete with devices like the Google Pixel with its Night Sight mode.