Apple Previews Carnegie Library Store in Washington, D.C. Ahead of Grand Opening on Saturday
Apple today previewed its upcoming retail store at the renovated Carnegie Library at Mount Vernon Square in Washington, D.C., just ahead of its grand opening this Saturday, May 11 at 10:00 a.m. local time.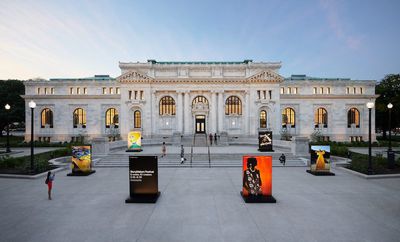 Apple says the store reflects its "most extensive historic restoration project to date," with the company working alongside architecture firm Foster + Partners and conservation experts to restore the building's distinctive early 20th-century Beaux-Arts style, including its marble facade and atrium.
Apple Carnegie Library features a revitalized grand entry plaza on K Street, a new grand entry staircase on Mount Vernon Place, a double-height atrium with an expansive skylight where Today at Apple sessions will be hosted, and a Genius Grove where the library's book stacks were previously housed.

Forum
To celebrate the opening, Apple will be hosting
special Today at Apple sessions
at the store between May 18 and June 29. The so-called StoryMakers Festival, led by GoldLink, Nigel Barker, No Kings Collective, and more, will focus on storytelling with photos, music, video, and art and design.

Genius Grove
Deirdre O'Brien, Apple's Senior Vice President of Retail + People:
Whether customers come to explore new products, visit one of our Geniuses or unlock their creativity in a Today at Apple session, Apple Carnegie Library is a place for everyone. We are excited to share this magnificent space with all of our visitors in Washington, D.C., and to provide a home for inspiration for the next generation.
Jony Ive, Apple's Chief Design Officer:
I love the synergy between old and new, the juxtaposition of the historic fabric and contemporary design. In its 'new' phase of life, Apple Carnegie Library will be a way for us to share our ideas and excitement about the products we create, while giving people a sense of community and encouraging and nurturing creativity. It has been a significant honor to restore the Carnegie Library for the people of Washington, D.C.
Carnegie Library also features a new D.C. History Center, which includes the Kiplinger Research Library, three galleries, and a museum store, all owned and operated by the 125-year-old Historical Society of Washington, D.C.


Apple's plans to open a store at Carnegie Library were first revealed back in 2016. Apple CEO Tim Cook recently discussed the store in an interview.