Microsoft Provides Sneak Peek of Edge on Mac, 16 Years After Safari Replaced Internet Explorer [Update: Now Available]
Microsoft has kicked off its annual Build developer conference in Seattle with a preview of its upcoming Edge web browser for Mac.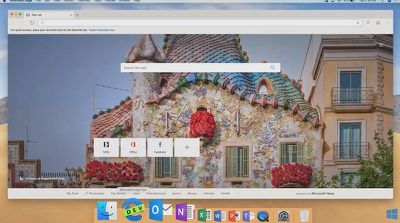 In a blog post detailing new features coming to Edge, which is being rebuilt with the same open source Chromium rendering engine as used by Google Chrome, Microsoft provided a sneak peek at how the browser will look on macOS. While only a brief glimpse, the browser looks somewhat similar to Chrome.
Microsoft shipped its first preview builds of its revamped Edge browser for Windows last month, but the browser remains listed as "coming soon" for macOS.
The Verge
believes the Mac version will be available "very soon," likely including both the Canary and Dev channel builds as on Windows.
Edge will be Microsoft's first web browser on the Mac since Internet Explorer received its last feature update nearly 16 years ago. Internet Explorer was the default web browser on the Mac between 1998 and 2003, when Apple released Safari on Mac OS X Panther, which has been the default ever since.
Edge succeeded Internet Explorer as the default web browser on Windows in 2015 and is also available for iOS and Android.
Update: According to a post shared on reddit, a canary version of Microsoft's Edge browser is now available for download. [Direct Download Link]