Intel Cites Apple-Qualcomm Settlement as Reason Behind Exiting 5G Smartphone Modem Business
Last week's surprise Apple and Qualcomm settlement and multiyear chipset supply agreement was the driving force behind Intel exiting the 5G smartphone modem business, according to Intel CEO Bob Swan.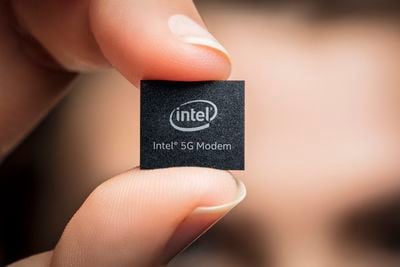 "In light of the announcement of Apple and Qualcomm, we assessed the prospects for us to make money while delivering this technology for smartphones and concluded at the time that we just didn't see a path," Swan said in an interview with The Wall Street Journal, as noted by The Verge.
Swan's comment suggests that Intel was surprised by the Apple-Qualcomm settlement and acted reactively when it announced its exit from the 5G smartphone modem business just hours later, but multiple reports indicate that Intel was unable to meet Apple's demands for 5G modems in 2020 iPhones.
It's hard to imagine that Apple and Qualcomm would have suddenly settled their bitter legal battle if Intel was able to supply 5G modems for 2020 iPhones, but Intel was reportedly struggling with its 5G modem development, possibly leaving Apple with little to no choice but to settle with Qualcomm.
iPhones have a long development cycle, so it was likely crunch time for Apple to choose a 5G modem supplier for its 2020 iPhones. Given this long lead time, Intel is still expected to supply LTE modems for 2019 iPhones.