WWDC 2019: Siri Expected to Become More Useful With Third-Party Apps on iOS 13 and More
iOS 13 will enable developers to integrate Siri into their apps for several new use cases, including media playback, search, voice calling, event ticketing, message attachments, flights, train trips, and airport gate and seat information, according to 9to5Mac's Guilherme Rambo.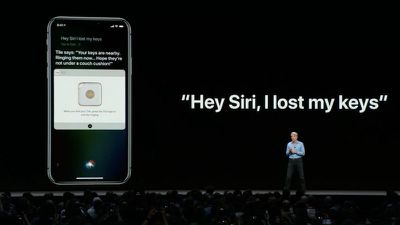 In a report today, Rambo detailed several other developer-focused features that he expects Apple to announce at WWDC in June, including the ability for iOS apps ported to the Mac to use Mac-specific features such as the Touch Bar and keyboard shortcuts along with support for multiple windows.
Rambo says enabling Mac support for an existing iOS app is "as easy as checking a checkbox" in Xcode, akin to adding iPad support to an iPhone app.
Apple's augmented reality platform ARKit is said to gain "significant improvements" this year, including a brand new Swift-only framework for augmented reality and a companion app that lets developers create augmented reality experiences visually. ARKit is also said to gain the ability to detect human poses.
Developers are also expected to gain access to a handful of new frameworks that allow for expanded use of the Taptic Engine, document scanning in third-party apps, and the ability to capture photos from external devices such as cameras and SD cards without having to go through Apple's Photos app.
Last, on the Mac, apps will supposedly be able to offer file provider extensions, improving the integration of apps like Dropbox with Finder.