Procreate Illustration App for iPad Gains New Text Manipulation Features
The Procreate app for iOS was today updated to version 4.3, introducing several major features that enable new text manipulation abilities within illustrations, as well as general speed and performance improvements.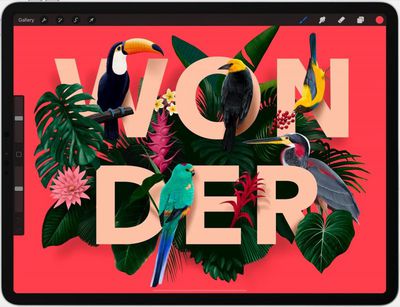 Users of the popular illustration app for iPad can now add editable typography to their illustrations, while precision sliders make it possible to refine spacing and alignment, and rasterize the results to finish.
This release also introduces the ability to drag and drop fonts into Procreate, while new layer export options allow you to share layers as folders containing PNG images, a multi-page PDF, or an animated GIF.
Elsewhere, there's new pressure smoothing settings to enhance strokes, and new layer blend modes including Darker/Lighter Color, Vivid Light, Linear Light, Pin Light, Hard Mix and Divide.
Procreate 4.3 is a free update for existing users. New users can download Procreate from the App Store for $9.99. [Direct Link]