Bare Bones Software today announced the return of BBEdit to the Mac App Store after a nearly five year hiatus.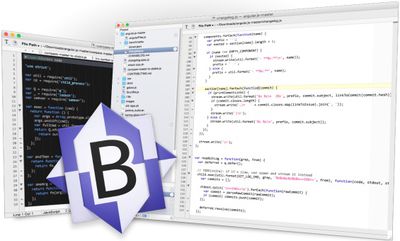 The popular text, code, and markup editor is a free download on the Mac App Store with full features available for $3.99 per month or $39.99 per year via in-app purchase. BBEdit remains available on a perpetual license basis for $49.99 via Bare Bones Software's online store and at participating resellers.
BBEdit was updated in February to become a sandboxed app, a requirement to be distributed through the ‌Mac App Store‌. Sandboxing limits apps to their intended use and is a protection implemented to prevent malicious software from working. BBEdit will require explicit permission to access files and folders on the Mac.
Bare Bones says BBEdit's features and capabilities are identical for all customers, whether downloaded directly from the Bare Bones Software web site or from the ‌Mac App Store‌, and whether using a subscription or a perpetual license.
BBEdit offers a 30-day evaluation period, during which its full feature set is available. After the evaluation period has expired, you can continue to use BBEdit in "free mode" with permanent access to editing capabilities, but not web authoring tools or other exclusive features for paying customers.
BBEdit 12 features more than 300 new features and refinements since the last ‌Mac App Store‌ release of the software, including 64-bit support, macOS Mojave and Dark Mode support, Git integration, and much more.
The ‌Mac App Store‌ version requires macOS Mojave 10.14.2 or later, while the direct version requires macOS Sierra 10.12.6 or later.
BBEdit is just one of several well-known apps returning to the ‌Mac App Store‌ following its redesign and changes to sandboxing rules on macOS Mojave. Others include the Microsoft Office suite, Panic's file transfer app Transmit, and Adobe Lightroom CC, as revealed by Apple during its WWDC 2018 keynote.