Growing Number of iPad Pro Owners Complain of Screen Stuttering Issues
Some iPad Pro owners who have 2017 and 2018 models have increasingly been running into issues with screen stuttering, based on a slew of threads on the Apple Support communities and the MacRumors forums.
Affected users have ‌iPad Pro‌ models that sometimes refuse to register touch gestures, stutter when scrolling, miss keystrokes, and have other similar issues. We here at MacRumors have not been able to replicate this issue, but the sheer number of complaints suggests something may be going on with the ‌iPad Pro‌'s display.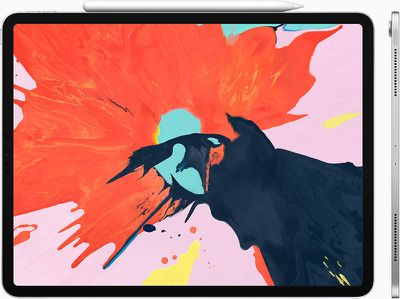 MacRumors reader Flasch describes the issue he had with his ‌iPad Pro‌ right out of the box:

I bought a new 12.9" iPad pro on the first available day last Wednesday. The o, k, and to a lesser extent i and j keys on the on-screen software keyboard consistently recognized touch with a click and change in colour of the key but the letter would often not appear in any program. For o in particular, it often required several attempts to make the letter register.

Spent time on the phone with apple and they didn't have a solution. A full restore to factory settings didn't help.

I returned it to the store today and picked up a new 12.9" iPad pro. Brought it home and this one is worse. Ofter 5 or more presses of o or k to get it to register. When the iPad is turned clockwise to landscape mode, the q and w are then in the same region of the device and they don't work either. Seven presses of the q before a letter appeared on the screen. It seems the bottom right of the touchscreen has an issue.
Other ‌iPad Pro‌ users are having the same issue with touchscreen unresponsiveness, which can also impact scrolling and general usage. From MacRumors reader Codeseven:
Newest 12.9'" iPad Pro, 1 TB/6 Gb model running iOS 12.1.3., no Screen Protector applied. Seems to occur on all areas of the screen.

Screen freezes. Started cropping up just in the last few weeks, seems to be getting worse. Reacts as though the screen was very dirty or my finger isn't contacting then screen completely. Interestingly, the freeze will sometimes stop when the iPad is changed from any angle to level. Also, sometimes if allot of finger pressure is used then the freeze is gone.
The problem appears to be primarily impacting new 2018 ‌iPad Pro‌ models, though there have also been complaints from some 2016 and 2017 ‌iPad Pro‌ owners.
A video demonstrating the stuttering issue

MacRumors
reader Roger, who let us know about the issue, says that after approximately a month, his 2018 ‌iPad Pro‌ had issues with scrolling and wouldn't register input. He was able to get a replacement, as were many other customers who have experienced this issue, but he said that the replacement model has also been exhibiting the same issues.
It's not clear if this is a software or a hardware issue, and there are certainly many 2017 and 2018 ‌iPad Pro‌ models out there that have no problems like this at all, which makes it difficult to determine what's going on. Some of the issues with the 2017 model appear to have started with the release of iOS 11.3, but have persisted through software updates. Many users who are running iOS 12.2 are still reporting problems.
Some users have noticed that the stuttering problem goes away on the 2018 models when the Apple Pencil 2 is attached to the iPad, perhaps suggestive of an Apple Pencil-related connectivity issue.
On the whole, though, it's not clear what's causing issues for ‌iPad Pro‌ owners who are having touchscreen responsiveness problems. Anyone with an unresponsive touchscreen should bring it into an Apple Store or an Apple Authorized Repair Shop for service as some users have been able to get replacement units.