New AirPods Sound Quality Debated as Orders Begin to Arrive Around the World
Apple's new second-generation AirPods are beginning to arrive to customers around the world, and some early adopters have turned to the MacRumors forums and social media to share their first impressions of the earphones.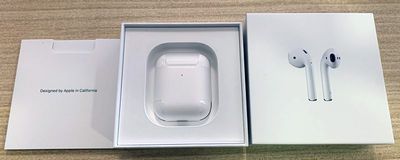 The new AirPods have the same outward design as the original and remain available in white only. Apple continues to include a one-meter Lightning to USB-A cable in the box with all second-generation AirPods.
Hey Siri
Powered by a new H1 chip, the new AirPods support hands-free Siri, enabling users to change songs, make phone calls, adjust the volume, get directions, and more by saying "Hey Siri." Siri can still be activated by doubling tapping one of the AirPods if enabled in Settings > Bluetooth on an iOS device.
First impressions about the new Hey Siri functionality are mostly positive so far. MacRumors forum member Moxxham from Australia wrote that "Hey Siri seems to work really well," even with loud music playing in the background, while Reddit user Lachlanhunt found the feature "works reasonably well."

Sound Quality
First impressions about overall audio quality are both subjective and anecdotal, with conflicting opinions as to whether the new AirPods sound better than the original. Reports range from users not noticing any difference all the way to feeling like the new AirPods are a huge improvement for sound.
HOLY CRAP the sound quality on the 2nd Generation Air Pods is WAY BETTER than the 1st gen. Listening to some Daft Punk, it's a hell of a change, and here I wasn't even expecting a real jump in sound quality. SHeeeeeeeesh — Gaijinhunter (@aevanko) March 26, 2019
MacRumors forum member Kiky
disagrees
with the above tweet:
When listening to music, I could not make out any discernible difference between my AirPods 2 and my wife's original AirPods. I bought the AirPods 2 mainly for the gym and casual wireless listening. They will replace my Jabra's which have lousy latency issues and fatigue my ears after 30 mins or so.
At the very least, MacRumors reader Vladislav Kuznetsov and many others agree that features like Siri and FaceTime calls sound clearer:
Got new AirPods! Much better sound quality in FaceTime and Siri. Faster switching between devices. Worth upgrading from first gen only if your battery is dying. — Vladislav Kuznetsov (@v1597psh) March 26, 2019
On a related note, Apple recently
seeded a 6.3.2 firmware update
for the first-generation AirPods, and some users on MacRumors and Reddit are speculating that the update has led to improved audio quality and faster connection speeds on the first-generation AirPods. Evidence is anecdotal at this point.
Early adopters are also noticing that the new AirPods switch more quickly between devices like the iPhone, iPad, Apple Watch, and Mac they are connected. Apple says the H1 chip makes switching between sources up to two times faster.
As far as battery life is concerned, more time will be needed for a proper comparison between the new AirPods and the original pair.
Apple says the new AirPods get up to three hours of talk time per charge, compared to up to two hours with the previous generation. Other battery life stats remain the same, with up to five hours of listening time per charge and more than 24 hours of total battery life from extra charges stored in the case.


The new AirPods are available to order on Apple.com and in the Apple Store app with a wired charging case for $159, the same price as the original AirPods, and with a wireless charging case for $199. Apple says both options will be available at Apple Stores and select resellers starting this week.
MacRumors will be sharing our own second-generation AirPods hands-on video and impressions soon. Let us know your own first impressions in the comments section or by tweeting at us with a @MacRumors mention!