MacRumors Giveaway: Win a Pair of Apple's Upcoming AirPods 2
Apple is working on second-generation AirPods that are expected to be announced sometime soon, perhaps even during the month of March.
We know the AirPods 2 aren't out yet, but we're launching a new giveaway feature that will see us offering MacRumors readers a chance to win unannounced Apple products at launch, and we're starting with the AirPods.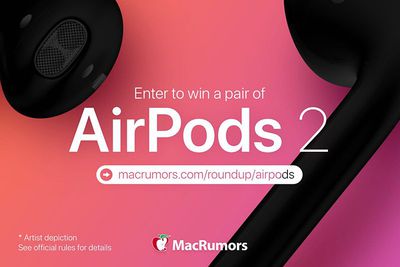 We're hosting a giveaway in our AirPods 2 roundup, which you can access by clicking this link or by clicking on the image above. The links will take you right to the giveaway section of the roundup complete with entry form and rules, but make sure to check out the rest for all of the AirPods 2 rumors we've heard so far.
Rumors have suggested the next version of the AirPods will come with "Hey Siri" support for making hands-free Siri requests and a new wireless charging case for Qi-based wireless charging at a minimum, but there are a few other possible features rumored.
Apple is perhaps working on a black color for the second-generation AirPods, and the AirPods could also feature an updated coating that's more matte in color. If Apple does release white AirPods and black AirPods, you can pick whichever color you like best.
There have been some vague hints of other features like heart rate monitoring, but we're not convinced these rumors are accurate. Such a feature could come to the AirPods at some point, but most information has suggested the first AirPods refresh will be rather minor in scale.
Whatever AirPods are coming next from Apple is what our giveaway winner will be receiving at the conclusion of the giveaway.
We're going to be accepting giveaway entries in our AirPods roundup in the United States and Canada until the day that the AirPods are announced, at which point we'll pick a winner, ask for your color preference, and send a pair of fresh new AirPods your way. For full rules and details, make sure to check out the details over in our roundup.