Apple's MacBook Air vs. Microsoft's Surface Laptop 2
The MacBook Air, last updated in 2018, is Apple's most affordable notebook machine, with pricing that starts at $1,199 for the newest hardware. Microsoft also makes a comparable machine, the Surface Laptop 2, which came out right around the same time Apple released its 2018 ‌MacBook Air‌ update.
In our latest video, we decided to pit the ‌MacBook Air‌ against Microsoft's Surface Laptop 2 to determine which machine is the better value and the best buy.
Both the ‌MacBook Air‌ and the Surface Laptop 2 are thin, light machines, with each one weighing in right around 2.75 pounds. The Surface Laptop 2 has a 13.5-inch display with a 2256 x 1504 resolution, while the ‌MacBook Air‌ has a 13.3-inch display with a resolution of 2560 x 1600, so all in all, design wise, these two machines are quite similar, though the Surface Laptop 2 offers a 3:2 display.
The Surface Laptop 2 comes in a matte black color (it's also in burgundy and blue) that we were a fan of because it's a nice deviation from the standard gold, silver, and space gray shades Apple uses for its notebooks. Inside, the ‌MacBook Air‌ is all aluminum, but the Surface Laptop 2 uses an Alcantara fabric design, which has become a key feature of the Surface lineup.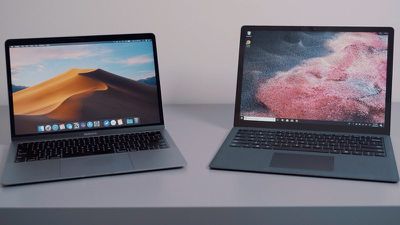 When it comes to key feel, the ‌MacBook Air‌ wins out, though those who are not fans of the butterfly key design might not agree. The ‌MacBook Air‌ also has a better trackpad, which is unsurprising because most PCs can't match the feel of the Force Touch trackpad with its haptic feedback.
Both laptops have a questionable port situation, with the ‌MacBook Air‌ limited to two USB-C Thunderbolt 3 ports and Surface Laptop 2 featuring a USB-A port, a proprietary charging port, and, inexplicably, a Mini DisplayPort, an odd choice for a modern laptop. It has no USB-C ports, which is disappointing given that USB-C is the standard device and accessory makers alike are transitioning to.


The ‌MacBook Air‌ uses Touch ID in lieu of a password to make logging in faster, while the Surface Laptop 2 uses Windows Hello for facial recognition. Future Macs might adopt Face ID, but for now ‌Touch ID‌ is just as useful. Each of these laptops features a 720p webcam, which are both terrible, and while both have decent sound, the ‌MacBook Air‌'s speakers are crisper and clearer at max volume.
Each of these machines features similar internal specs, and both are designed for simple tasks rather than heavy duty video editing or 3D work. You can do light editing or use Photoshop on these machines, but that's not their primary purpose.


With these thin, light laptops with low-powered processors, battery life is impressive. Both the ‌MacBook Air‌ and the Surface Laptop 2 offer somewhere around 10 to 12 hour battery life for everyday tasks like using email and browsing the web.
Price is the major differentiator between the Surface Laptop 2 and the ‌MacBook Air‌, and could push some to choose the Surface Laptop 2 instead of the ‌MacBook Air‌.
The base model Surface Laptop 2 features a 1.6GHz 8th-Gen dual-core Core i5 processor, 8GB RAM, and 256GB of SSD storage all for $999, while the base 2018 ‌MacBook Air‌, offering similar specifications with less storage -- a 1.6GHz 8th-Gen dual-core Core i5 processor, 8GB RAM, and a 128GB SSD -- is priced starting at $1,199.


The Surface Laptop 2 and the ‌MacBook Air‌ are similar enough that choosing one over the other ultimately comes down to ecosystem and operating system preference. Microsoft's machines, of course, run Windows, which an Apple product user might not prefer, while Windows users won't want a machine running macOS.
What do you think of Microsoft's Surface Laptop 2? Let us know in the comments.