Highly anticipated role-playing title Divinity: Original Sin 2 - Definitive Edition got its official release on Mac today, exactly three months since Apple teased the game at its October 2018 Keynote event.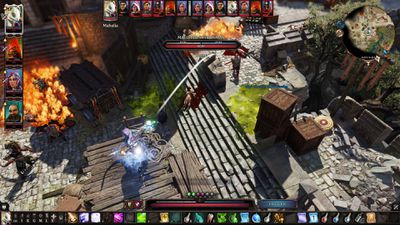 Developed in partnership with Mac porting studio Elverils and Apple's Metal engineering team, the acclaimed RPG from Larian Studios includes all the content from the PC version, along with a raft of additional features exclusive to Mac.
Examples of the latter include full MacBook Pro Touch Bar support for quick access to in-game actions (such as the journal or map), MacBook trackpad and selected gestures support, eGPU support, support for Apple MFi controllers and rumbling support on selected controllers, and iCloud support for easy backup between devices.
Divinity: Original Sin 2 - Definitive Edition supports cross-play between Windows and Mac systems. It's also the first title on macOS to support HDR (on selected hardware, macOS Mojave 10.14+ only).
Since its 2017 PC release, 
DOS2
 is one of only 15 games to receive a GameSpot 10/10 score. The in-depth sandbox adventure for up to four friends has also won a BAFTA in the Multiplayer category and is the highest rated PC game of 2017 on Metacritic.
System requirements include an Intel Core i5 processor, 8GB of memory, HD Graphics 5000 or Radeon R9 M290X, 19.3GB of disk space, and macOS 10.13.6 High Sierra or later.
Divinity: Original Sin 2 - Definitive Edition is available on the Mac App Store for $44.99 and on Steam for $29.24 including the 35 percent discount that runs until February 11. For more information, be sure to check out the official Divinity: Original Sin 2 website.