Divinity: Original Sin 2 - Definitive Edition is coming to Mac next year. The critically acclaimed role-playing game from Larian Studios featured in yesterday's Apple event in New York, where Apple unveiled new Macs and iPad Pros.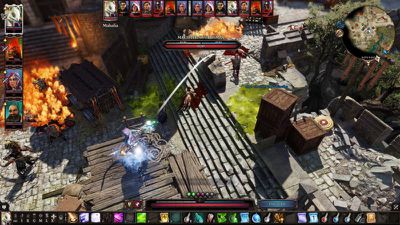 The RPG title is being developed in partnership with Mac porting studio Elverils and Apple's Metal engineering team, and promises to feature all the content from the PC version as well as the following additional features exclusive to Mac, as confirmed by MacGamerHQ:
64-bit Metal 1.2 support
eGPU support (10.13+ only)
V-sync support (10.13+ only)
Support for Apple MFI controllers and rumbling support on selected controllers
MacBook Touch Bar support
MacBook trackpad and selected gestures support
Elverils plans compatibility with systems running macOS 10.13 and 10.14 macOS, with potential for 10.12 support further down the line, while MacBook Pro Touch Bar support should equate to quick access to in-game features like the journal or map.
Divinity: Original Sin 2 will also support HDR, iCloud backups, and cross-play between Windows and macOS systems.
More information including pricing is expected as the game gets closer to its Q1 2019 release, when it should be available to purchase on both Steam and the Mac App Store.