Well-known developer and 9to5Mac contributor Guilherme Rambo has released a new macOS utility named AirBuddy that extends iOS-like AirPods integration to the Mac. We were provided a copy of the utility to try out in advance.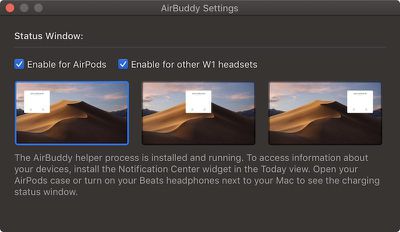 AirBuddy comes with a helper tool that allows you to enable the utility for AirPods. The helper tool also lets you choose where the floating AirPods status window appears on the desktop: left, center, or right.
Then, when you open the AirPods case near your Mac, the status window automatically appears with the battery life of the AirPods and case, just like on an iPhone. The window also has a one-click shortcut to connect the AirPods.


In our brief testing, AirBuddy worked quite seamlessly, although the status window did not always open. Rambo says the app relies on several factors to determine whether to show the status window, including the distance of the AirPods to your Mac, whether the AirPods are currently in use by another device, and so forth.
It is also possible to add AirBuddy as a Notification Center widget on Mac that displays the battery life of not only the AirPods and case, but the Mac itself, other headphones equipped with the Apple W1 chip like the BeatsX, Beats Solo3, and Powerbeats3, and other trusted, Wi-Fi-connected devices.


AirBuddy requires a Mac with Bluetooth LE and macOS Mojave. The app is available via Gumroad for any payment of $5 or more.
Update: Beats headphones clarification.