Apple Maps Gains Transit Directions for Denmark, Sweden, Norway, and Finland
Apple Maps today gained comprehensive transit directions for Denmark, Sweden, Norway and Finland, in the largest single combined update to its European coverage thus far.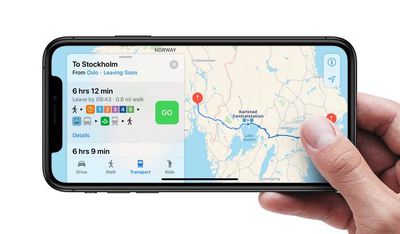 The coverage includes train, tram, and bus routes in the capital cities of each country, including Oslo, Stockholm, Copenhagen, and Helsinki, as well as funicular connections where available and transit links across borders.
Apple has yet to update its official list of locations for which Maps offers Transit data, but the information is already live across Europe.
Google Maps has supported transit directions for several years now, but ‌Apple Maps‌ has been steadily catching up with detailed routing information in recent years.
Transit coverage began in 2015 with an initial rollout in Baltimore, Berlin, Boston, Chicago, London, Los Angeles, Mexico City, New York, Philadelphia, San Francisco, Sydney, Toronto, and China. Since then, Apple has expanded the feature to many other regions around the world.
(Thanks, Bernd and Noah!)