Apple CEO Tim Cook today shared a story on Twitter of an Apple Watch that alerted its user to atrial fibrillation, potentially saving their life in the process.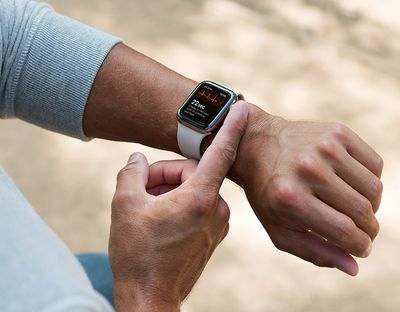 Elissa Lombardo tweeted Cook with her husband's experience with Apple Watch that occurred just two days after he started wearing the device.
The smartwatch's ECG feature detected the case of A-Fib during an elevated heart rate, which led her husband to seek medical attention.
Medical professionals apparently discovered a "major blockage" in his arteries but were able to correct the problem, and two days later he was feeling fine again.
According to Lombardo, her husband presented with similar symptoms in the past, but on those occasions he never visited the emergency room to get them checked out.
This isn't the first time an Apple Watch has potentially saved someone's life. When the ECG feature launched in December in the U.S.,
TIME
published a story
about a 46-year-old Texas resident who was having trouble breathing normally.
Fortunately, since he was wearing an Apple Watch and participating in the recent Apple Heart Study, he was alerted to signs of an irregular heartbeat and went to the emergency room.
At the hospital, doctors hooked him up to an ECG machine and found signs of atrial fibrillation, an irregular heartbeat that can lead to stroke and other potentially fatal complications. He spent the next few days in the hospital while doctors returned him to a normal sinus heart rhythm.