2019 iPhone Could Feature 10MP Front Camera, 10MP and 14MP Rear Lenses, No USB-C
Apple's 2019 iPhones could feature upgraded front-facing and rear cameras, redesigned internal layouts, and Lightning ports, according to new details known leaker Steve Hemmerstoffer (aka OnLeaks) shared with Indian site ComparaRaja.
Over the course of the past week, Hemmerstoffer has shown off two possible prototype iPhone designs Apple is allegedly working on, featuring different three camera layouts. Today he's offering up additional information on the cameras we can expect to see in the triple-lens model, which rumors have suggested will be a 6.5-inch OLED ‌iPhone‌ XS Max successor.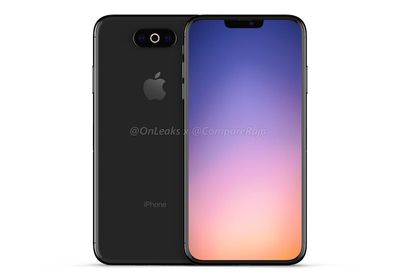 One of the alleged triple-lens 2019 ‌iPhone‌ prototypes


One rear camera will be 10 megapixels, while a second will come in at 14 megapixels. The details of the third sensor are apparently unknown. Right now, the ‌iPhone‌ XS and XS Max use two 12-megapixel cameras, one that's telephoto and one that's wide-angle.
Apple will presumably continue using both telephoto and wide-angle lenses, but this information isn't included in the report. The renderings shared by Hemmerstoffer allege that Apple is still trying to decide between a horizontal triple lens camera layout or a square-shaped layout that would position the lenses vertically but staggered.
The front-facing TrueDepth camera system will reportedly use a 10-megapixel camera, up from 7 megapixels in the current version. Prior rumors and renderings have suggested the TrueDepth camera will take up less space on the ‌iPhone‌'s display thanks to optimizations, allowing Apple to implement a smaller notch.
Internally, the 2019 ‌iPhone‌ with a triple-lens camera is said to have a redesigned internal layout with a "less L-shaped battery" that's "almost a big square" with the "logic board located above the battery."

The other the alleged triple-lens 2019 ‌iPhone‌ prototype


Hemmerstoffer says that the two prototype designs he's shared renderings for do not feature USB-C ports, despite rumors suggesting Apple could transition from Lightning to USB-C in the 2019 iPhones.
All of the information from Hemmerstoffer is sourced from these two alleged prototype iPhones that he says are "still in the EVT stage" and have yet to be finalized, so it's not clear yet if this information is accurate.
None of these details have been confirmed by a second source at this point in time either, so we'll need to wait for further leaks to get a clearer picture of the features included in the 2019 ‌iPhone‌ lineup.