A German court on Tuesday threw out a new patent lawsuit filed by Qualcomm, which the U.S. company claimed was violated by the use of its chips in Apple's iPhones (via Reuters).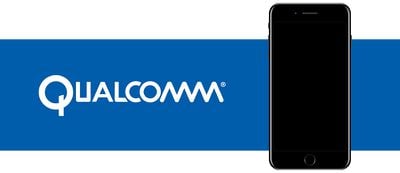 The regional court in the city of Mannheim dismissed the Qualcomm suit as groundless in an initial verbal decision, saying the patent in question was not violated by the installation of its chips in Apple's smartphones.
This is just the latest in a string of lawsuits from Qualcomm, which remains locked in a worldwide patent battle with Apple. The chipmaker said it would appeal today's decision, after winning a separate case before a German court in December that enabled it to enforce a ban on the sale of older iPhones in the country.

"Apple has a history of infringing our patents," said Don Rosenberg, Qualcomm's executive vice president and general counsel.

"While we disagree with the Mannheim court's decision and will appeal, we will continue to enforce our (intellectual property) rights against Apple worldwide."
Apple declined to comment on the Mannheim decision and instead referred to a statement issued in response to the December ruling.
Apple is appealing the preliminary injunction which blocks the import and sale of infringing iPhone models in Germany, but it has already been forced to pull the iPhone 7, iPhone 7 Plus, iPhone 8, and iPhone 8 Plus from sale in the country.
Meanwhile, Qualcomm has put aside €1.34 billion in security bonds in order to enforce the preliminary injunction. The bonds will be put towards the cost of the lost sales if Apple successfully appeals the verdict.