The busiest shopping mall in North America for the past several years will finally be getting a brand new Apple Store in the not too distant future.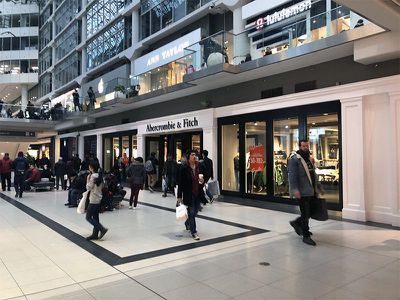 Apple's new store will take over this Abercrombie & Fitch location via Pedro Marques
A new building permit for the Eaton Centre shopping mall in Toronto, Canada was applied for three days ago, proposing interior alterations to unit 2105A. The space is currently occupied by apparel retailer Abercrombie & Fitch, which will be
relocating to a new store directly across the hall in spring 2019
.
When finished, the unit will be a new "ground floor Apple Store," according to the building permit. Abercrombie & Fitch is currently located on "Level 2" of the Eaton Centre near the south Queen Street entrance to the mall. Apple will "move" its existing store into the space, the application confirms.


MacRumors was first to report on Apple's plans at the Eaton Centre last week based on info from people familiar with the matter.
The biggest benefit of Apple's planned move will be additional space. Abercrombie & Fitch currently has a 10,680-square-foot unit, more than twice the size of Apple's current 4,977-square-foot store, according to an Eaton Centre floor plan.
Not only is the Eaton Centre the busiest shopping mall in North America, but it is home to Apple's only store in Downtown Toronto. An expansion would be a sigh of relief for not only customers but the team staffing the busy store, as the location has developed a reputation for being frequently overcrowded.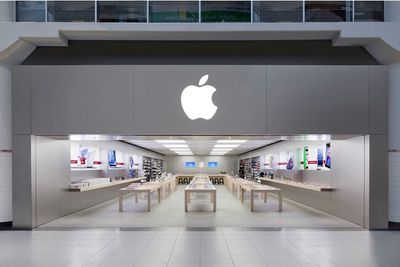 Apple's current store at the Eaton Centre
Toronto-based photographer and urban planning aficionado
Pedro Marques
has informed MacRumors that two stores next to Abercrombie & Fitch will soon be vacating, including Scotch & Soda and Baby Gap, potentially giving Apple up to 15,000 square feet of space for its new store — triple the size of its current store.
The new store would feature Apple's updated retail aesthetic, which typically includes large glass doors, massive video screens for Today at Apple sessions and product marketing, and wall-mounted sequoia wood shelves called Avenues that display Beats headphones, iPhone cases, and other accessories.
Depending on how long the City of Toronto's zoning and safety reviews take, the new store could potentially open in time for the 2019 holiday shopping season. However, no timeframe has been specified as of yet.
Apple and the Eaton Centre's owner and property management company Cadillac Fairview did not immediately respond to requests for comment.
Apple has four existing stores in Toronto at Yorkdale, Sherway Gardens, Fairview, and the aforementioned Eaton Centre, but all of them are within shopping malls. Rumors suggest Apple also plans to open a new street-facing store at The One, an upcoming condominium bordering Downtown Toronto slated to open by 2022.