Vizio SmartCast TVs to Gain Support for AirPlay 2 and HomeKit Later This Year
Vizio today announced that its recent smart TVs will gain support for Apple's wireless streaming protocol AirPlay 2 and smart home platform HomeKit via a free SmartCast 3.0 over-the-air software update later this year.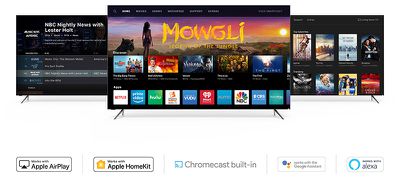 AirPlay 2 support will allow users to stream videos, music, photos, and more directly from an iPhone, iPad, and Mac to SmartCast-enabled Vizio TVs, complete with lock screen controls. HomeKit support will enable users to easily control the TV using the Home app on iPhone, iPad, and Mac or Siri voice commands.
Vizio says the SmartCast 3.0 update with AirPlay 2 and HomeKit can be tested by registered beta members in the United States and Canada in the first quarter of 2019. The software will be publicly released in the second quarter of 2019 and will also be preinstalled on Vizio's entire 2019 lineup of smart TVs.
The upcoming SmartCast 3.0 update will also add expanded Google Assistant actions for eligible SmartCast TVs. Google Assistant users, for example, will have the ability to use simple voice commands to launch apps, select inputs as well as pause, resume, stop, fast-forward, rewind content, and more.
Amazon Alexa users can also control their TV, and coming later this year, launch apps without lifting a finger, according to Vizio.
Apple recently updated its website with information about how AirPlay 2 and HomeKit will be implemented on smart TVs from "leading TV manufacturers," including Samsung, which is also introducing an iTunes movies and TV shows app that does not appear will be available on Vizio smart TVs at this time.