CES 2019: Netgear Unveils New Orbi 802.11ax Mesh Wi-Fi System for Gigabit Internet
Netgear today announced a new version of its Orbi Mesh Wi-Fi System, which is equipped with 6th-generation Wi-Fi 6 802.11ax technology that supports gigabit wireless speeds.
According to Netgear, the Wi-Fi 6 version of the Orbi will allow for new performance benchmarks for Mesh Wi-Fi systems, delivery sustained gigabit wireless speeds across the home.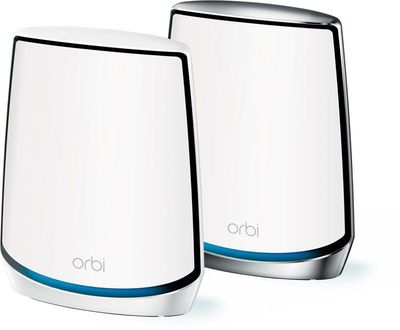 For those unfamiliar with Orbi, it is a multi-node mesh Wi-Fi system much like the Linksys Velop that Apple sells in its retail stores. With Orbi, the idea is to set up multiple Orbi access points throughout the home to ensure high-speed Wi-Fi coverage in all rooms.
The new Orbi Mesh Wi-Fi System features 1024 QAM with a 4x4 Wi-Fi 6 backhaul, for increased speeds, coverage, and capacity.
Wi-Fi 6 is the latest version of the Wi-Fi protocol, which will be baked into future computers, smartphones, tablets, and other devices. Accessories with Wi-Fi 6 support connected to a system like the Orbi will be able to achieve higher data transfer speeds.
No Apple devices take advantage of Wi-Fi 6 at this time, but it's likely to be built into future iPhones, iPads, and Macs.
Netgear says that its next-generation Orbi system is ideal for households that have a "multitude" of connected devices running high-bandwidth internet for purposes like 4K video streaming, always-on smart home devicds, and video monitoring security systems.
The Orbi with Wi-Fi 6 will be available in Netgear's Orbi RBK50 series in the second half of 2019.