iPhone XS and iPhone XS Max Smart Battery Cases Spotted in Apple's Fall 2018 Merchandising Guide
Photos of Apple's rumored Smart Battery Cases for the iPhone XS and iPhone XS Max have been uncovered in a product merchandising guide for Apple Premium Resellers that was obtained by the blog Appleosophy.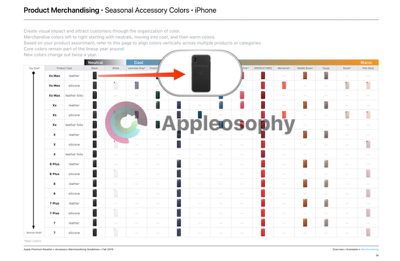 The guidelines instruct Apple Premium Resellers how to organize Apple's various leather and silicone cases for the iPhone 7 through iPhone XS Max in their stores. While the photos are low resolution, two of the cases clearly have a battery pack hump and a cutout for the vertically-aligned rear camera on the latest iPhones.
The new Smart Battery Cases are listed as "leather" products, but this is likely a mistake, as they appear to be silicone in the photos like Apple's previous Smart Battery Cases for the iPhone 6 and iPhone 7.


The guidelines are dated "Fall 2018," suggesting that Apple planned to release the new Smart Battery Cases within the past few months. The season officially ends this Friday, December 21, so there's still some time. Of course, Apple may also delay the cases until 2019 or never end up releasing them.
9to5Mac, which confirmed the merchandising guide is legitimate, earlier discovered assets related to Smart Battery Cases for the iPhone XS, iPhone XS Max, and iPhone XR within iOS and watchOS code. The assets suggest the cases might no longer have a "chin" extending past the bottom of the iPhone.
Apple's first Smart Battery Case was for the iPhone 6 and iPhone 6s, and was equipped with a 1,877 mAh battery that protruded out of the back of the case. Apple later released an iPhone 7 version with a similar design but larger 2,365 mAh battery. Both remain available for purchase for $99 in the United States.
At this point, ample evidence of Smart Battery Cases for the latest iPhones has surfaced, so all eyes are on Apple's online store.