Apple Potentially Working on Smart Battery Case for Latest iPhones
It's been three years since Apple first debuted the $99 Smart Battery Case for iPhone 6, 6s, and eventually 7, which included a rear-facing protrusion that held a 1,877 mAh battery. Apple may be working on a similar accessory for newer iPhone models, according to a discovery made by 9to5Mac in the second beta of watchOS 5.1.2.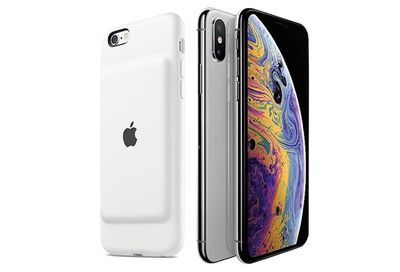 In previous versions of watchOS, Apple Watch had an icon that displayed a battery case with a bottom chin and horizontal camera, indicating this as the Smart Battery Case for iPhone 6, 6s, and 7. In the latest beta of watchOS 5.1.2, things have been changed and this icon now displays a battery case with no bottom chin and a vertical camera.

Image via 9to5Mac
While far from a confirmation, this suggests that Apple could be working on a Smart Battery Case for the latest set of iPhones with vertically aligned cameras, which would include iPhone X, iPhone XS, iPhone XS Max, and iPhone XR. For previous generations, Apple never made Smart Battery cases for "Plus" iPhones, presumably because a major selling point for those devices was increased battery life sans battery case.
Unless Apple changes tune, this means we'd likely see a Smart Battery Case for iPhone X/XS. Still, the launch window for such an accessory -- if there even is one -- remains unclear.