Charter Spectrum's App for Apple TV Launches
Charter Spectrum's long-promised app for the Apple TV launched today and can now be downloaded via the Apple TV App Store. The app is designed to give Spectrum TV users access to live channels and on demand titles right on the Apple TV.
The app works with the new Zero Sign-on feature, which means Charter Spectrum users will not need to sign in to use it when connected to accompanying Charter Spectrum internet services.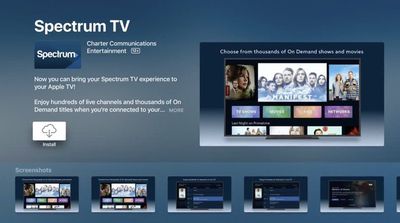 Apple first promised Zero Sign-on and a new Charter Spectrum app at the 2018 Worldwide Developers Conference. At the time, Apple said the app would debut during 2018, but the feature was ultimately delayed until 2019.


The Charter Spectrum app only works when connected to a Charter Spectrum internet service, and it does not appear to allow logins when connected to a different third-party internet service.