Yes, the 2018 MacBook Air's FaceTime HD Camera is Awful
Since the launch of the 2018 MacBook Air, we here at MacRumors have heard multiple complaints from MacRumors readers about the quality of the FaceTime HD camera housed in the device.
There have been multiple threads on the MacRumors forums and the Apple Support Communities complaining about the graininess of the camera so we decided to investigate to see if it's worse than recent MacBook Pro models or the older MacBook Air.
Many of the complaints that we saw suggested the camera was poor quality without offering direct comparisons, or with comparisons to FaceTime cameras like those in the iPhone, which are wildly better than the 720p "FaceTime HD" camera Apple uses in the MacBook Air and MacBook Pro lines.
In a direct comparison, photos taken from Photo Booth on a 2018 MacBook Air and a modern 15-inch Touch Bar MacBook Pro are almost identical, and both are pretty terrible. The MacBook Air photos are a bit darker, which can be interpreted as "worse," but all in all, both cameras are bad.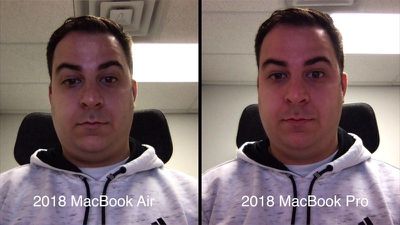 When comparing the new MacBook Air and the older 2015 MacBook Air, however, we found a more noticeable difference in quality. The FaceTime HD camera in the 2015 MacBook Air is a bit clearer and brighter, with the 2018 MacBook Air's camera letting in less light and producing an overall grainier, less clear result.


Even though we can clearly see a difference between the 2015 and the 2018 MacBook Air FaceTime HD cameras, it's not a huge gap. Both cameras are subpar, and that the FaceTime HD camera on the MacBook Air appears to have gotten worse over time rather than better is certainly disappointing.


On a modern machine with a Retina display, a 720p FaceTime HD camera just doesn't hold up, especially in comparison to devices like the iPhone XS, iPhone XR, and iPad Pro, which have much higher resolution cameras. FaceTime is limited to 720p on all devices, but the FaceTime HD camera does serve other purposes as well.
2018 MacBook Air owners are disappointed, and honestly, MacBook Pro owners should be too. 720p looks awful and it is outdated technology. Apple implemented a better 1080p FaceTime HD camera in the iMac Pro, and the quality is much better.


Hopefully future Mac notebook updates will feature higher-quality webcams as video quality has become an increasingly important feature that consumers look for when making a purchase.
Many of the complaint threads that suggested the MacBook Air camera is worse than other machines did not include comparison images, so we're still working with just a few data points here. If you have a MacBook Air and another machine, please feel free to post comparison images in the thread below so we can further investigate this issue.