Apple Devices Running iOS 13 Spotted in Analytics
Apple is already working on the next-generation version of iOS, iOS 13. Based on visits to the MacRumors website from Apple IP addresses on devices running iOS 13, work on the update has been picking up over the course of the last few months.
We first spotted devices running iOS 13 in October, and in November and December, visits from iPhones with iOS 13 installed have increased. Visits slowed during late December, but should pick up again now that the holidays are over and work is continuing.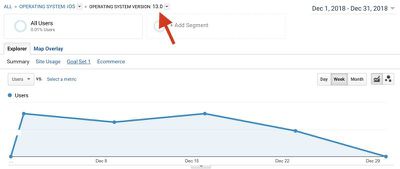 Apple often starts work on new versions of iOS many months in advance, and we've already learned some details about what we can expect in iOS 13. There were several iOS 12 features that were delayed to allow Apple to work on bug fixes and other under-the-hood improvements, and we're expecting to see these delayed features introduced in iOS 13.
Rumors have suggested iOS 13 will include new features aimed at iPad owners, such as a revamped Files app, in-app tabs for opening multiple windows of the same app, support for using the same app side-by-side in Split View multitasking mode, and more.
Other delayed iOS 12 features include a revamped Home screen app grid for the iPhone and iPad, and expanded photo management features.
More details on what we can expect to see in iOS 13 will undoubtedly leak out in the coming months as Apple continues to ramp up testing of the update.
MacRumors readers have shared a list of features that they're hoping to see introduced in iOS 13, including a Messages hub, dark mode, an option to hide or remove the Dock, settings to select default Mail, Maps, and Messages apps, and more. If you have iOS 13 features you're hoping for, feel free to share them on our forums.
Apple will give us a first look at iOS 13 when it hosts its annual Worldwide Developers Conference, which, historically, has taken place during the first few weeks of June.