Apple Music Gets Unofficial Web Player With Full Library, 'For You' Recommendations, and More
Apple still doesn't offer a full online web player for Apple Music, but this week software engineer Naveed Golafshani shared a new project on Reddit, allowing Apple Music subscribers to get access to their full library and other Apple Music features on the web. The web player can be found at playapplemusic.com, and to see your Apple Music library you can click "log in" in the bottom left corner of the screen.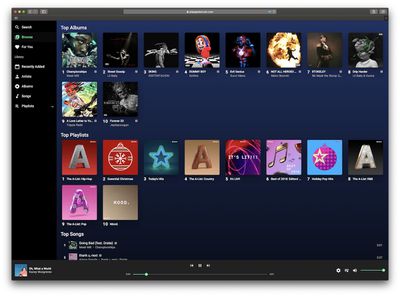 The player then provides an Apple authentication pop-up, where you'll have to log into your Apple ID and let the web player access Apple Music, media library, and listening activity for your account. Afterwards, you'll be able to see normal Apple Music tabs like Search, Browse, For You, and Library. In Library, you can access your Recently Added items, Artists, Albums, Songs, and Playlists.


To play a song, simply click on it and the player will update at the bottom with an image of the album, playback controls, and track scrubber. At the bottom right corner are settings for the bitrate, up next, and volume. If you hover over a song, you can also click on the ellipsis icon to select it to play next or play later in your up next queue. On macOS and Safari, keyboard controls for play/pause will also directly control the web player.


There are a few limitations to the web player, like not being able to specifically customize the order of up next, the Browse tab is pared down, and Radio options don't exist, but otherwise the site is a solid and well-built realization of Apple Music. Additionally, the web player will load with an optimized layout for mobile web.
Apple was believed to be potentially working on an Apple Music web player over the summer, but as of yet nothing has come to fruition from the company.