Apple Releases iOS 12.1.1 With Expanded eSIM Support, Redesigned FaceTime With Live Photos, Haptic Touch for Notifications on iPhone XR, and More
Apple today released iOS 12.1.1, the third update to the iOS 12 operating system since its September launch. iOS 12.1.1 is a minor update that follows iOS 12.1, a more significant release that brought features like Group FaceTime, initial eSIM support, and new emoji.
The iOS 12.1.1 update is available on all eligible devices over-the-air in the Settings app. To access the update, go to Settings > General > Software Update. As with all iOS updates, iOS 12.1.1 is free to download.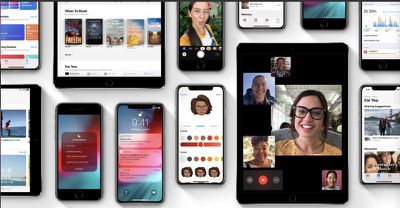 iOS 12.1.1 reintroduces a feature that's designed to let you take a Live Photo while on a FaceTime call so you can capture favorite moments and save them indefinitely. Taking a Live Photo on a FaceTime call requires the person you're video chatting with to have the "FaceTime Live Photos" setting toggled on, which can be accessed by going to Settings > FaceTime > FaceTime Live Photos. If this setting is disabled, people you chat with won't be able to take a Live Photo during the call.
FaceTime also includes a reworked bottom bar that offers up quick access buttons for muting a call and flipping the camera. Sliding up on the bottom bar brings up additional options with conversation participants.
Prior to today's update, FaceTime users were required to tap on three dots to access a secondary menu with these features, so this greatly streamlines often used options.
eSIM support on the iPhone XS, iPhone XS Max, and iPhone XR has expanded to additional carriers across Europe in iOS 12.1.1, including Swisscom in Switzerland, Orange in Spain, and Three in Sweden and Denmark. We're checking to see if Verizon, AT&T, and T-Mobile have added support for this feature.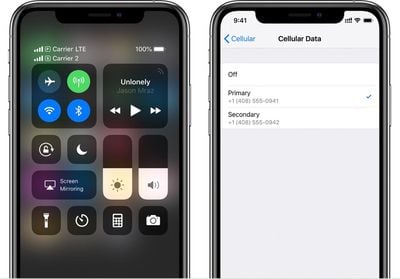 On the iPhone XR, the iOS 12.1.1 update introduces support for Haptic Touch with notifications. Haptic Touch can now be used to expand notifications on the Lock screen through a long press to see additional content. This is identical to the 3D Touch option on notifications on other iPhones.
For owners of Apple Watch Series 4 models, the iOS 12.1.1 update introduces support for the the ECG feature that will be included in the watchOS 5.1.2 update for Apple Watch Series 4 models. A single-lead ECG reading, which detects your heart rhythm, can be taken on an Apple Watch Series 4 by placing a finger on the Digital Crown after updating to watchOS 5.1.2.

iOS 12.1.1 also adds a new option in Apple News to hide the side bar on the iPad when using the app in landscape mode, it introduces an option to turn off the physical SIM in the device in favor of the eSIM, and it tweaks the icon of the Apple Watch app so it looks like the Apple Watch Series 4.
iOS 12.1.1 release notes:
iOS 12.1.1 adds features and fixes bugs for your iPhone and iPad. Features and improvements include:

- Notification preview using haptic touch on iPhone XR
- Dual SIM with eSIM for additional carriers on iPhone XR, iPhone XS, and iPhone XS Max
- One tap to flip between the rear and front-facing camera during a FaceTime call
- Live Photo capture during one-to-one FaceTime calls
- The option to hide the sidebar in News on iPad in landscape orientation
- Real-time text (RTT) when using Wi-Fi calling on iPad and iPod touch
- Stability improvements for dictation along with VoiceOver

Bug fixes include:

- Fixes an issue where Face ID may temporarily become unavailable
- Addresses an issue that prevented visual voicemail from downloading for some customers
- Fixes an issue in Messages that could prevent predictive text suggestions when typing on the Chinese or Japanese keyboards
- Addresses an issue that could prevent Voice Memos recordings from uploading to iCloud
- Fixes an issue where time zones may not have updated automatically

This release also adds features and fixes bugs for HomePod including:

- Support in Mainland China and Hong Kong
- HomePod LEDs illuminate during Group FaceTime calls

For information on the security content of this update, please visit this website: https://support.apple.com/kb/HT201222
macOS Mojave 10.14.2, tvOS 12.1.1, and a HomePod 12.1.1 software update were also released today, but there is no sign of watchOS 5.1.2 at this time.