Apple Reportedly Reassigned Some Marketing Staff to Work on Bolstering Sales of iPhone XS and iPhone XR
Apple moved some of its marketing staff off other projects to focus on bolstering sales of the latest iPhone lineup in late October, around the time the iPhone XR launched, according to Bloomberg's Mark Gurman.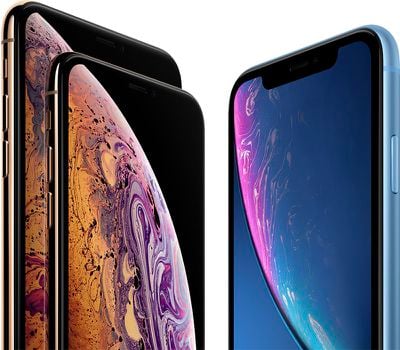 The report cites an unnamed person familiar with the situation who described the move as a "fire drill" and "a possible admission that the devices may have been selling below some expectations," a concern shared by some analysts and investors. Apple's stock price has plunged nearly 17 percent since November 1.
Apple is certainly marketing the latest iPhones more aggressively than in previous years. A banner at the top of its website advertises the iPhone XR "from $449," but with an asterisk, as that price requires trading in an iPhone 7 Plus for a $300 credit as part of a limited time promotion rarely seen from Apple.
These concerns are nothing new following iPhone launch season, with the doom and gloom often fueled by weakening forecasts from iPhone suppliers.
Cirrus Logic, a supplier of audio-related components for iPhones, expects its revenue for the current holiday season quarter to be around 16 percent lower than it originally forecasted due to "recent weaknesses in the smartphone market." While not named, Apple accounts for around 80 percent of Cirrus Logic's business.
Making matters worse, The Wall Street Journal reported that Apple recently slashed production orders for the iPhone XS, iPhone XS Max, and iPhone XR due in part to "lower-than-expected demand."
Apple CEO Tim Cook has dismissed those supply chain reports in the past. During an earnings call in January 2013, he noted that the company's supply chain is very complex and that conclusions shouldn't be drawn from singular data points:
Even if a particular data point were factual, it would be impossible to interpret that data point as to what it meant to our business. The supply chain is very complex and we have multiple sources for things. Yields can vary, supplier performance can vary. There is an inordinate long list of things that can make any single data point not a great proxy for what is going on.
It certainly doesn't help that Apple recently announced that it will no longer disclose iPhone unit sales in its quarterly earnings results, leading some to believe that iPhone sales have peaked and Apple has something to hide.
Apple's financial chief Luca Maestri said unit sales are "not particularly relevant for our company at this point," as they are "not necessarily representative of the underlying strength of our business." He did note that Apple may provide qualitative commentary if the info is valuable to investors.
While there were similar concerns about the iPhone X, that device ultimately sold well, so time will tell whether these headlines are baseless again. However, analysts will now have to rely exclusively on iPhone revenue to gauge sales, so the situation will no longer be as transparent going forward.
Apple has yet to announce a date for its next quarterly earnings report, but it will likely be released at the end of January. Apple expects revenue of between $89 billion and $93 billion, which would be an all-time company record.