Hands-On With Caviar's $4,400 'Tesla' Solar-Charging iPhone X
Several months back, a crazy custom "Tesla" iPhone X with a built-in solar charger made headlines across the internet because of its unique design and its $4000+ price tag.
We managed to get our hands on one of the Tesla iPhone X models, designed by custom iPhone maker Caviar, to test it out, and while this isn't something that most MacRumors readers are likely interested in buying, it's always interesting seeing one of these insanely expensive custom devices in person.
According to Caviar, the Tesla iPhone X is so named because the solar charging panel and battery pack built into the back of the device were inspired by Elon Musk. There's no actual association with Tesla aside from the name and the solar design.
The Tesla iPhone X's solar charger isn't a case or a standalone battery pack - it's built right into the back of the iPhone. The solar addition is a 2,300mAh battery that can be used to charge the iPhone, and the battery itself charges using the power of the sun or via USB.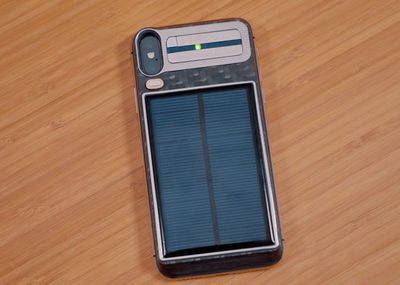 When charging using the sun, the battery takes 30 hours to charge, so it's in no way efficient. It is, however, useful if you're stranded sans power, and while home, you can use an included magnetic charging cable to charge it up in just a few hours.
We did notice when charging that the Tesla iPhone's battery frame and magnetic connector got super burn-your-hand hot, which is always a concern because it's not clear how safe custom iPhone components are in day to day use.


The device also comes with headphones, a Lightning cable, and a wall adapter, just like any other iPhone, but it has a Caviar-designed box that offers a premium unboxing experience as one would expect from a $4,400 iPhone.
The Tesla iPhone's battery pack is essentially similar to one of Apple's battery cases, except the battery is included at the back of the phone. This does, of course, disable the iPhone X's wireless charging feature, and it adds a good amount of bulk.


Along with the solar panel at the back of the device, the Tesla iPhone features carbon fiber accents, gold plating, and Tesla and Caviar-branded labeling on the device.
Aside from the solar panel and the custom design, the Tesla iPhone works like any other iPhone X. Face ID is unhindered, and the buttons work as normal.


This isn't a phone designed for the average consumer given its $4,400 price point, but there's a definite customer base for altered iPhones like this, and it's fun to check out even if it's not something we might buy.
What do you think of the Tesla iPhone? Let us know in the comments.