Microsoft Passes Apple to Become Most Valuable U.S. Company
Microsoft today surpassed Apple to become the world's most valuable publicly traded company as a result of Apple's continually declining share price, reports Business Insider.
Microsoft has reached a market capitalization of approximately $814 billion, while Apple's is now slightly less.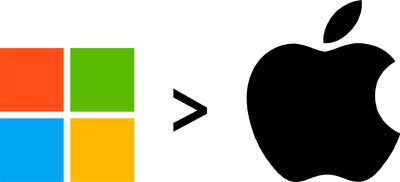 Apple earlier this year became the world's only trillion dollar publicly traded company, but it lost that status in November and its market cap has steadily declined since then over concerns of weak iPhone sales and its announcement that it will no longer share iPhone, iPad, and Mac sales on a unit basis.
According to Bloomberg, Microsoft's market cap has not previously matched Apple's since mid-2010, eight years ago.
Microsoft's growing cloud business and strong PC sales made Microsoft one of the few tech companies to grow in value following its September quarter earnings results. Apple's valuation, meanwhile, has fallen more than 20 percent since its own earnings results.
Microsoft shares hit a high of $105.94 in intra-day trading, while Apple's have dropped to a low of $170.27. As stock prices fluctuate, Microsoft and Apple are now competing for the most valuable company title with the lead company shifting back and forth.