Apple Loses Trillion Dollar Company Status Due to 10% Slide on Stock Market Since Thursday
AAPL has dipped below the $200 mark at times today, and is down around 10 percent since Apple's earnings report last week, resulting in the company losing its trillion dollar valuation in terms of market capitalization. As of writing, Apple has a market cap of around $950 billion based on its latest share count.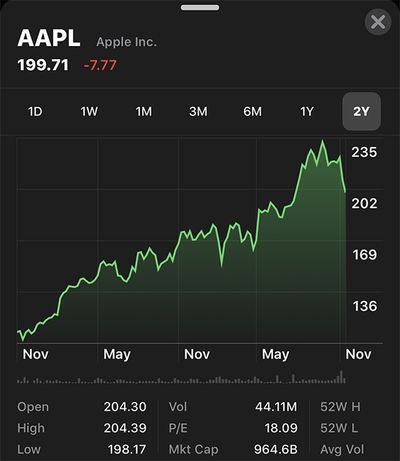 Apple on Thursday reported revenue of $62.9 billion during the fourth quarter of its 2018 fiscal year, an all-time record for the July-September period, but the good news was overshadowed by Apple's revelation that it will no longer disclose iPhone, iPad, and Mac sales on a unit basis starting next quarter.
The news has sparked concerns among some analysts and investors that Apple may have something to hide, as iPhone unit sales in particular were essentially flat last quarter and could begin to decline in upcoming quarters.
Apple's financial chief Luca Maestri said unit sales are "not particularly relevant for our company at this point," as they are "not necessarily representative of the underlying strength of our business." He added that Apple may provide qualitative commentary related to unit sales if the info is valuable to investors.
AAPL is also being dragged down by a questionable report claiming Apple has informed its suppliers to halt plans for additional production lines dedicated to the iPhone XR due to "disappointing demand" for the smartphone.
Not everyone believes Apple's decision to stop reporting unit sales is a bad one. Apple bull Brian White at Monness Crespi Hardt believes the change "makes perfect sense" as Apple's success is "increasingly driven by an ecosystem of product and services on Planet Apple," including rising ASPs.
Apple analyst Gene Munster of Loup Ventures also believes the change will be "a good thing for Apple investors," as "the new reporting method will force the Street to think about Apple's business as a stable and growing service, which should yield a higher earnings multiple in the long run."
AAPL is currently hovering around $199-$201 on the intraday market, down from a closing price of $222.22 on Thursday.