Apple is Officially a Trillion Dollar Company as Shares Cross $207 Mark
Apple has officially become the world's only trillion dollar publicly traded company, in terms of market capitalization, which is simply the company's number of outstanding shares multiplied by its stock price.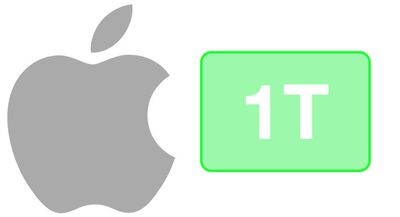 Apple achieved this milestone by hitting a stock price of $207.05 and above in intraday trading today, giving it a market cap slightly over $1,000,000,000,000, based on its 4,829,926,000 outstanding shares as of July 20, 2018, which the company disclosed in its quarterly 10-Q filing with the SEC on Wednesday.
While some publications declared Apple a trillion dollar company earlier in the day, this was based on an outdated number of outstanding shares in Apple from tools such as Yahoo Finance, which powers Apple's own Stocks app.
Apple beat out other large tech companies, including Amazon, Microsoft, and Google parent company Alphabet, in the race to a trillion dollars. As with most milestones of this nature, however, Apple reaching exactly a trillion dollar market cap doesn't have too much significance, beyond the vanity of it.
Apple's stock has appreciated over eight percent since the market closed on Tuesday, following its record-breaking earnings results. Apple set a new fiscal third quarter record with $53.3 billion revenue, easily topping Wall Street expectations, and there were also indications that the iPhone X is selling quite well.
The milestone is a testament to the strength of Apple, which has already been the world's most valuable company for several years. Aside from 2016, which is now an outlier, Apple has been steadily increasing its revenue and profits since 2003, fueled by the massive popularity of products like the iPhone and iPad.
Apple will look to build upon its success with a wide range of new products expected later this year, including a trio of iPhones, iPads with Face ID, Apple Watch Series 4 models, updates to several Macs, new AirPods, and much more.
Update: Apple's stock price has since dipped below $207 as it continues to fluctuate on the intraday market.