Black Friday retail shopping is well underway across the country today, but those who prefer online shopping already know that many of the best deals can be bought without leaving your home, and some notable offers are available only online.

Note: MacRumors is an affiliate partner with some of these vendors. When you click a link and make a purchase, we may receive a small payment, which helps us keep the site running.
For that purpose we've created this post to round up all of the best online-only bargains this Black Friday, offered by well-known brands like Anker, Aukey, Incipio, Griffin, and many more.
Incipio, Griffin, and Incase
A trio of accessory companies -- including Incipio, Griffin, and Incase -- have notable online discounts for holiday shoppers this Black Friday. The deals began on Thanksgiving Day and will run through Cyber Monday on November 26 at 11:59 p.m. PT. The Incipio Group's sales offer great discounts on cases, screen protectors, cables, and more for iPhone, iPad, and MacBook. We've detailed each company's sale below:


Incipio
You can save 40 percent off sitewide at Incipio, including all smartphone and tablet cases, like the latest cases for iPhone XS, iPhone XS Max, and iPhone XR.
Griffin
Similar to Incipio, at Griffin you can take 40 percent off sitewide on Black Friday weekend and on Cyber Monday. Griffin's sale offers a nice chance to save on battery packs, chargers, screen protectors, and device cases.
Incase
Incase has the best sitewide discount during Black Friday and Cyber Monday, offering its customers 50 percent off sitewide, although select exclusions will apply. Incase shoppers can get half off on travel bags, backpacks, and numerous Apple accessories, including Incase's new cases for iPhone XS, iPhone XS Max, and iPhone XR.
Mujjo
We've partnered with leather tech accessory company Mujjo to offer MacRumors readers an exclusive sale: get 25 percent off sitewide from Thanksgiving Day, November 22 through Cyber Monday, November 26. To get access to the sale, enter the coupon code #macrumors during the checkout process. Mujjo offers a variety of accessories that will protect iPhone XS, XS Max, XR, iPad, MacBook, and more, so be sure to check the company out when the sale goes live.
Anker
Anker's Black Friday deals this year include a collection of portable chargers, Bluetooth speakers, Lightning cables, wireless chargers, and more. Some of the sales last today only (as mentioned below), and the rest will last through Sunday, November 25.

RAVPower
RAVPower is offering the following accessories discounted on Black Friday and on Cyber Monday:

Aukey
Apple accessory company Aukey is offering several Black Friday discounts on its range of products on Amazon, with the deals available through Monday, November 26.
Twelve South
Twelve South is offering discounts on nearly all of its iPhone, iPad, and Apple Watch accessories, dropping prices on everything from the AirFly to iPhone and iPad cases and stands. Twelve South's sale will end at 11:59 p.m. ET Friday night.


BookBooks for iPad Pro are available for 50% off, as are SurfacePads. There are also solid deals on Twelve South's range of iPhone cases and its Apple Watch accessories, and the new PowerPic wireless charger.
Nimble
New accessory company Nimble is jumping in on Black Friday deals this year, offering notable discounts on its lineup of portable battery packs and wireless chargers. Nimble will begin by offering 30 percent off featured items on its online storefront and 20 percent off everything else during the week of Thanksgiving.


For Black Friday, this means that shoppers can save 30 percent on all Wireless Chargers and Portable Chargers, and 20 percent off accessories today only. Next week, Nimble will feature the same style of sale, with two featured items marked down by 30 percent and the rest of the site down by 20 percent.
Kano
Creative computing company Kano has a few Black Friday sales this year, some of which will extend into Cyber Monday and beyond. Through Cyber Monday on November 26, Kano is offering $30 off the Pixel Kit, available for $49.99, down from $79.99. Pixel Kit teaches kids how to code through colorful lights, animations, and games that they can build using a connected app.


From November 23 through November 26, you can also get $50 off the Computer Kit, available for $99.99, down from $149.99. This kit allows kids to build their own computer and learn to code in the process.
Pad and Quill
Pad and Quill is providing up to 25 percent off sitewide through Monday, November 26 at midnight. You can stack this offer with a 10 percent off promo code "BF18" and get 35 percent off your order total.
Newegg
Newegg's Black Friday sale runs through Saturday, November 24. The retailer is offering discounts on numerous computers, computer parts, gaming accessories, peripherals, and more. It will also match savings on Nest items seen at other retailers, with the Nest Learning Thermostat at $179.00 and Nest Indoor Cam at $129.00, both representing savings of $70.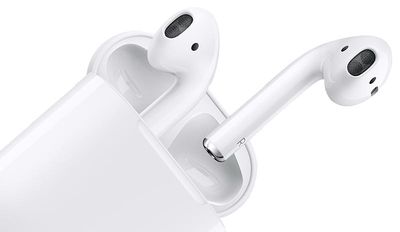 In one of the only Black Friday discounts on Apple's AirPods, Newegg has the wireless headphones for $139.99, down from $159.99, with the promo code BFAD155. As of writing, this deal is currently sold out.
Southern Straps Apple Watch Bands
Southern Straps is offering a free nylon band with the purchase of any two Apple Watch bands. The deal kicks off on November 15 and lasts through November 30.
CalDigit
CalDigit has kicked off its Autumn Sale, which runs from November 13 through December 3 and includes a few Black Friday discounts. The sale has numerous discounts on Thunderbolt Stations and external drives, and the standout offer nets you a free 2TB AVPro 2 when purchasing any T4 Thunderbolt 3 RAID.
Satechi
Satechi's Black Friday deals are available from November 23 to November 25. The site is offering several MacBook and iMac bundle deals with discounts up to 35 percent.


Select Black Friday bundles from Satechi are listed below:
iMac Pro Bundle ($200, discounted from $333) - The bundle includes the not yet released iMac Stand (goes officially on sale in December), a Bluetooth Keyboard, Aluminum Mousepad, R1 Stand, R1 Laptop Stand, Lightning Charging Stand, Bluetooth Headphones, Slim Headphone Stand.
MacBook Pro Bundle ($200, discounted from $300) - Products include Satechi's Type-C 75W Travel Charger, Type-C Pro Adapter with Ethernet, Bluetooth Keyboard, Aluminum Mousepad and the newest Type-C Wireless Charger.
Family Bundle ($99, discounted from $148) - The bundle includes the popular 7-Port USB Charging Station, Flexible 6-inch Lightning and Micro USB cables and the newest Satechi Type-C Wireless Charger.
BodyGuardz
BodyGuardz is offering 50 percent off sitewide, letting customers save on quality screen protectors for iPhone, iPad, and more.
Grovemade
Grovemade has 20 percent off all products from Black Friday through Cyber Monday. Grovemade is a company that offers iPhone cases, wireless chargers, desk accessories, and more.
Liquipel
Liquipel, a site that offers a spray-on screen protector option for the iPhone, is offering 20 percent off sitewide and offering free shipping on most products.
Casetify
Casetify has three tiers of savings for Black Friday shoppers: 15 percent off orders over $35, 25 percent off orders over $75, and 30 percent off orders over $100.


To get these deals, use the promo code BF18P.
Rachio
Smart sprinkler company Rachio is offering a $40 discount on all of its products on Black Friday and Cyber Monday.
Brydge
Brydge is offering discounted prices on a number of its keyboards and accessories, with deals listed below.
Brydge 12.9 Series for 2015 and 2017 iPad Pro - $30 off
Brydge 10.5 Series for 10.5-inch iPad Pro - $30 off
Brydge 9.7 for 9.7-inch iPad Pro, 5th and 6th-generation iPad, and iPad Air/Air 2 - $20 off
Koogeek
For Black Friday, Koogeek is discounting two HomeKit-compatible accessories. First up is the Koogeek E26 Wi-Fi Smart LED Light Bulb for $15.99 with promo code MFJMEQ2A, down from $39.99. Secondly, shoppers will be able to get the Koogeek Door Window Sensor for $23.99 with promo code W56WOCN3, down from $35.81.
Luna Display
Luna Display is discounting its Luna Display adapter that's designed to turn the iPad into a secondary display for a Mac by 20 percent. It can also be used to turn an iPad into a main display for a Mac mini.


Luna Display's discount will be available from Friday, November 23 to Monday, November 26.
For even more Black Friday shopping, be sure to check out our full Black Friday Roundup before many of the sales expire later today.