Jony Ive Remains 'Eager to Create' and 'Completely in Awe' About Creative Process
Apple design chief Jony Ive, who was awarded the 2018 Stephen Hawking Fellowship in September, delivered the Stephen Hawking Fellowship Lecture at The Cambridge Union, the University of Cambridge's debate society, on Monday.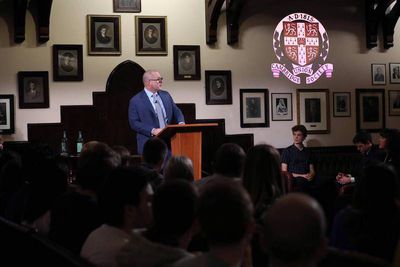 Jony Ive speaking at The Cambridge Union via Apple/The Independent
Ive spoke about a wide range of topics, reflecting on his career at Apple, technology, and design as a whole, according to
The Independent
. We've rounded up some of his comments from the speech below.
How using a Mac for the first time led Ive to find out more about Apple and ultimately join the company in 1992:
With the Mac, in 1988, I think I learned two things. Firstly, I could actually use it. I loved using it and it became a very powerful tool that helped me design and create. Secondly, and I think this is in some ways a rather embarrassing admission because this was at the end of four years of studying design, I realized that what you make represents who you are.

It stands testament to your values and your preoccupations, and using the Mac I sensed a clear and direct connection with the people who actually created the Macintosh. For the first time, I remember being moved by obvious humanity and care beyond just the functional imperative.
How the idea behind Multi-Touch was conceived around 2002 to 2003 and eventually led to the App Store in 2008:
This was a project that we came to describe as multi-touch. Some of you may remember the first time you experienced the interface. Perhaps it was on one of the first iPhones or later on an iPad. But multi-touch describes the ability to directly touch and interact with your content to be able to pinch to zoom an image or flick through a list with your fingers.

Importantly, it defined an opportunity to create applications with their own unique, very specific interface. So, not being generic but being specific inherently describes the application's function. We came to see that we could make applications purposeful, compelling and intuitive to use. And so, as the potential for a vast range of apps became clear, so did the idea for an app store.
Ive on how he remains "eager to create":
I remain completely in awe, completely enchanted by the creative process. I love the unpredictability and the surprise. The whole process is fabulously terrifying and so uncertain. But I love that on Monday, there's nothing. There is no idea, there is no conversation, the room is silent, there's certainly not a drawing. Prototypes are way in the future. On Monday, there is nothing, but on Wednesday, there is. No matter how partial, how tentative. Now, the problem is: which Wednesday?"
Ive on how there is a "fundamental conflict" between "curiosity and the resolve and focus that is necessary to solve problems":
Honestly, I can't think of two ways of working, two different ways of being, that are more polar. On one hand to be constantly questioning, loving surprises, consumed with curiosity and yet on the other hand having to be utterly driven and completely focused to solve apparently insurmountable problems, even if those solutions are without precedent or reference. And so, of course, this is where it becomes sort of ironic and teeters towards the utterly absurd.
More Coverage: Apple designer Jony Ive explains how 'teetering towards the absurd' helped him make the iPhone by David Phelan