Three Things to Know About the New Apple Pencil
Last week, Apple introduced a second-generation Apple Pencil that magnetically attaches to the new iPad Pro. It also features automatic pairing, wireless charging, tap to wake, double-tap to switch drawing tools, a more seamless design with no Lightning connector or cap, and a matte rather than glossy finish.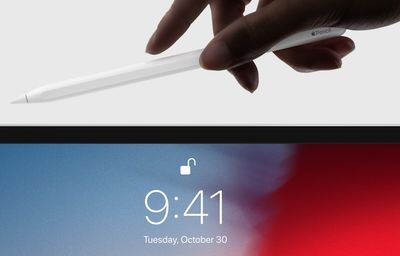 As the new Apple Pencil begins to arrive to customers around the world, we've learned some additional details about the drawing tool:
Unlike the original, the second-generation Apple Pencil does not include an extra tip in the box. Apple sells a four-pack of extra tips online and at many of its retail stores for $19 in the United States.

The new Apple Pencil wirelessly charges when attached to the new iPad Pro, but it is not compatible with Qi-based wireless chargers. Not too much of a surprise there, but good to know.

In a memo shared with its retail stores on Wednesday, seen by MacRumors, Apple said customers "may experience the new Apple Pencil as unresponsive after initial setup" and outlined steps to resolve this.

First, pair the Apple Pencil to the iPad Pro. Once the iPad Pro has an internet connection, it will download an Apple Pencil firmware update and send it to the Apple Pencil via Bluetooth. The Apple Pencil will continue to work normally during the 10-minute transfer.

The pairing update will begin the next time the Apple Pencil goes idle for 60 seconds, and will take roughly two minutes. The Apple Pencil will be non-responsive during this time. Once it resets, and the update is complete, it will start working normally again.
The new Apple Pencil is compatible with the latest 11-inch and 12.9-inch iPad Pro models. It retails for
$129 in the United States
with free custom laser engraving available exclusively for orders placed on Apple.com.
Apple has more details about the new Pencil on its website.