Apple Releases watchOS 5.1.1 to Solve watchOS 5.1 Bricking Issue
Following the release of watchOS 5.1 last Tuesday morning, some Apple Watch Series 4 owners began complaining that the update had bricked their watches, leaving the devices stuck at the Apple logo.
The complaints led Apple to pull the watchOS 5.1 update to avoid further incidents, and it's been unavailable since Tuesday afternoon.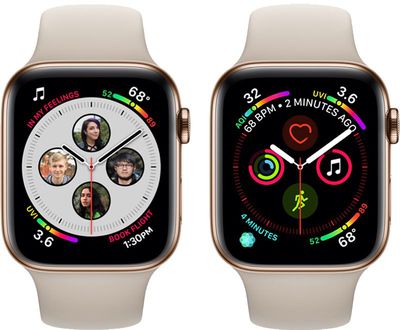 As of today, Apple has released an updated version of watchOS, watchOS 5.1.1, that fixes the bug that caused some Apple Watch devices to be rendered non-functional.
Not all Apple Watch owners who downloaded the original watchOS 5.1 update were impacted by the bug, but those who were will need to contact Apple as Apple has been sending out replacement Apple Watches. Non-functional Apple Watches need to be repaired by Apple and won't be fixable with the new watchOS 5.1.1 update.
watchOS 5.1 introduced several new features to the watchOS operating system. It brought support for Group FaceTime in an audio-only capacity, allowing Apple Watch owners to join in on group calls, and it introduced support for more than 70 new emoji characters like face with hearts, red hair, gray hair, curly hair, super heroes, kangaroo, peacock, parrot, lobster, cupcake, mango, and more.


The update also included a new full-screen "Color" watch face option for the Apple Watch Series 4 models, with users able to choose between dozens of shades. There's also a filled-in circular option for older Apple Watch models that joins the standard Color clock face.


Fall detection was improved, two bugs that could prevent Walkie-Talkie from working were addressed, and an issue that could cause some Activity awards not to show up properly was resolved.