Apple today released watchOS 5.1, the first major update to the watchOS 5 operating system that runs on modern Apple Watch models. watchOS 5.1 comes more than a month after the release of watchOS 5 and a few weeks after the launch of watchOS 5.0.1, a minor bug fix update.
watchOS 5.1 can be downloaded for free through the dedicated Apple Watch app on the iPhone by going to General --> Software Update.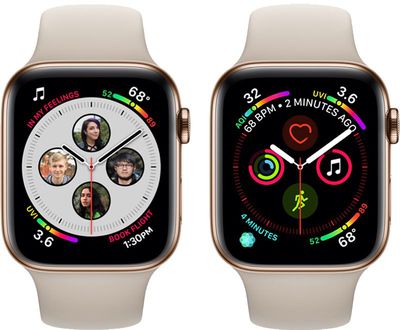 To install the new software, the Apple Watch needs to have at least 50 percent battery, it needs to be placed on a charger, and it needs to be in range of the iPhone.
watchOS 5.1 introduces support for the Group FaceTime feature also coming in iOS 12.1 and macOS 10.14.1, but in an audio-only capacity on the wrist. You can answer Group FaceTime calls using FaceTime Audio, and switch over to the iPhone for video. Group FaceTime is designed to let you chat with up to 32 people at one time.
Today's update introduces a new full-screen "Color" watch face option for the Apple Watch Series 4 models, with users able to choose between dozens of shades. There's also a filled-in circular option for older Apple Watch models that joins the standard Color clock face.


Alongside iOS 12.1 and macOS 10.14.1, watchOS 5.1 introduces support for more than 70 new emoji characters, like face with hearts, red hair, gray hair, curly hair, super heroes, kangaroo, peacock, parrot, lobster, cupcake, mango, and more.



The watchOS 5.1 update also includes several bug fixes, as outlined in Apple's release notes:
This update includes improvements and bug fixes:

- Apple Watch Series 4 automatically contacts emergency services if you are immobile for about a minute after detecting a hard fall. The watch will also now play a message that informs the responder that the Apple Watch has detected a fall and shares your location coordinates when possible.
- Fixes an issue that could cause an incomplete installation of the Walkie-Talkie app for some users.
- Resolves an issue that prevented some users from being able to send or receive invitations on Walkie-Talkie
- Addresses an issue where some previously warned Activity awards were not showing in the Awards tab of the Activity app for some users.
For a full look at all the emoji available in the new software updates, make sure to check out our dedicated emoji article. For more information on watchOS 5, our watchOS 5 roundup has all of the details you need to know.