New iPad Pro Has Comparable Performance to 2018 15" MacBook Pro in Benchmarks
A series of benchmark results have shown up on Geekbench for the new iPad Pro, and its new eight-core A12X Bionic chip is truly a powerhouse.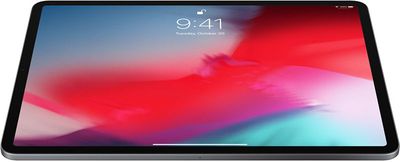 The new iPad Pro achieved single-core and multi-core scores of 5,025 and 18,106 respectively based on an average of two benchmark results, making it by far the fastest iPad ever and comparable even to the performance of the latest 15-inch MacBook Pro models with Intel's six-core Core i7 chips.
We've put together a chart that compares Geekbench scores of the new iPad Pro and various other iPad, Mac, and iPhone models.


That the new iPad Pro rivals the performance of the latest 15-inch MacBook Pro with a 2.6GHz six-core Core i7 processor is impressive, but even more so when you consider that the tablet starts at $799. The aforementioned MacBook Pro configuration is priced at $2,799, although with 512GB of storage.
Even the new 11-inch iPad Pro with 512GB of storage is only $1,149, less than half that of the Core i7-equipped MacBook Pro.
At its special event in Brooklyn on Tuesday, Apple said the new iPad Pro achieves up to 90 percent faster multi-core performance compared to the previous-generation models, and the Geekbench results support that claim. In fact, the new iPad Pro's multi-core score is 94 percent higher than last year's models.
The configured-to-order 15-inch MacBook Pro with a 2.9GHz six-core Core i9 chip is still faster than the new iPad Pro in terms of both single-core and multi-core performance, as is the iMac Pro, but Apple's flagship tablet is quickly becoming one of the fastest products that it sells due to its advanced chip design.
The benchmark results also indicate that the new iPad Pro models have either 4GB or 6GB of RAM depending on the configuration. On Twitter, well-known developer Steve Troughton-Smith said 6GB of RAM is limited to the 1TB configuration, with 4GB of RAM in the 64GB, 256GB, and 512GB configurations.
With the iPad Pro now rivaling some higher-end Macs in performance, there is a compelling case for Apple to start using its own ARM-based A-series chips in some Macs. Apple reportedly plans to do exactly that as early as 2020.