Apple Pay 'Making Up a Lot of Ground' With Competitors Thanks to Success of Apple Pay Cash
A new report out this week by Bloomberg highlights Apple's ongoing efforts to boost adoption of Apple Pay, which is said to be gaining more traction this year thanks to the launch of Apple Pay Cash, as well as a growing number of of retailers supporting the mobile wallet. Although it still struggles to surpass rival mobile wallets, analyst Gene Munster argues that Apple's real advantage lies in the fact that it's the only digital wallet with payment options for mobile apps, desktop, peer-to-peer, and in stores.
According to Munster, Apple Pay Cash's launch in December 2017 "was a big missing piece" to the Apple Pay ecosystem, and has led the company to "make up a lot of ground" with its competition in 2018.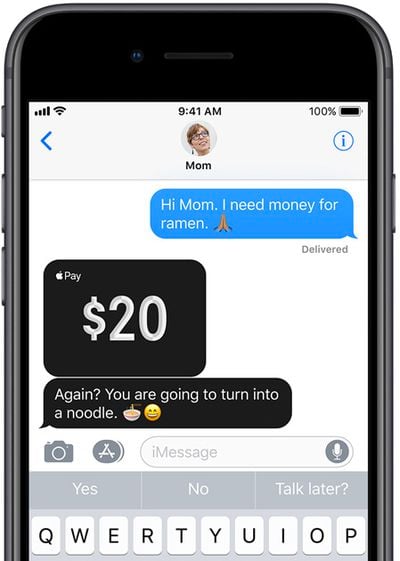 In total, 60 percent of United States merchants will have Apple Pay-ready equipment in their shops by the end of this year, which is an increase from three percent four years ago, when Apple Pay launched. Apple Pay already has made impressive growth in the United Kingdom, because merchants there "already accepted contactless payments and consumers were already using contactless cards," explained Crone Consulting CEO Richard Crone.
Multiple analysts believe that Apple's biggest opportunity in the mobile payments field is to increase acceptance of Apple Pay from e-commerce sites and to beef up the features of Apple Pay Cash. According to data from Crone Consulting, the number of online mobile app transactions using Apple Pay is "growing much faster" than transactions made inside retail stores. In this area, Apple Pay is used by hundreds of thousands of websites and is accepted by 85 of the top 100 global e-commerce apps. Senior managing director for Falcon Point Capital, Michael Mahoney, agreed:

"When it started, you'd tap and physically cause a purchase to be made," Michael Mahoney said. "The whole world of mobile commerce has so much shifted to everything being done on the phone and shipped to you. My kids don't even think of going to the store. Apple Pay has morphed along with that change in behavior."
As of estimates from August, 31 percent of worldwide iPhone users have used Apple Pay in some way in the last year, up from 25 percent one year ago, according to Loup Ventures data. In regards to the total number of active users making at least two transactions per month, Crone Consulting estimates that Apple has 32 million users in the U.S., compared to its total user base of around 252 million global. In terms of U.S. usage, PayPal has the most at 250 million users and Walmart Pay is just below Apple Pay at 31 million users.


Apple Pay Cash was the highest-rated peer-to-peer payments platform on the market, according to a review by Consumer Reports. The service beat out Zelle, Square Cash, Venmo, and Facebook Messenger P2P payments, mainly due to Apple's stronger privacy and security measures. Munster pointed out that the growth of Apple's P2P platform is convincing new people to add their banks into Apple Pay (which is required for P2P iMessage payments), many of which eventually add their credit and debit cards into Wallet as well to enable the main NFC features of Apple Pay.
Apple is also continuously expanding the mobile wallet into new countries, and this week Apple Pay will launch in Belgium. Belgium-based newspaper De Tijd reports that several sources believe Apple Pay will launch in early November -- as soon as tomorrow, November 1 -- with major bank BNP Paribas Fortis supporting the launch. Next, Apple Pay is said to be "coming soon" to Saudi Arabia.