Apple Pay Gains Momentum With Estimated 250 Million Users, 200% Transaction Growth Predicted Next Year
An estimated 31 percent of iPhone users have made a purchase with Apple Pay in the past year, up from 25 percent a year ago, according to a new Apple Pay estimates shared today by Loup Ventures analyst Gene Munster.
Apple Pay now has an estimated 252 million users, equating to 31 percent of the active installed iPhone base, according to Munster.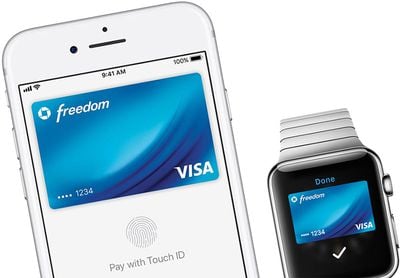 Apple does not provide official details on how many people use Apple Pay, but in a recent earnings call, Apple CEO Tim Cook said that there were upwards of 1 billion Apple Pay transactions in Q3 2018, triple the amount from a year ago.
Based on these figures combined with past Apple reports of yearly Apple Pay growth, Munster expects transaction growth of 200 percent over the course of the next 12 months.


Bank adoption of Apple Pay is also growing steadily, and during the same earnings call, Apple announced that 4,900 banks support the feature. The number of banks supporting Apple Pay has increased by 1,701 since the December quarter, marking a 55 percent growth in North America, 141 percent in Asia, and 370 percent in Europe.
Munster believes that just 20 percent of global smartphone users use their phone as a wallet, a number that he expects to rise to 80 percent in the future.
Apple is well-poised to position the iPhone as the premium digital wallet on the market given that it's the only digital wallet option "with all five payment pillars" defined as mobile, desktop, in-app, peer to peer, and point of sale.
Munster says Apple Pay is much more popular overseas, with 85 percent of users being international compared to 15 percent in the United States. Apple Pay is estimated to have 38 million users in the U.S. and 215 million in the 20+ other countries where Apple Pay is available.


Apple Pay works in retail locations with the Apple Watch and iPhone, and in apps and on the web with iPhone, iPad, and Mac. As of iOS 11.3, Apple also supports Apple Pay Cash payments, a feature that is currently limited to the United States.
Apple Pay is available in the United States, the United Kingdom, Australia, Canada, Singapore, Switzerland, Hong Kong, France, Russia, China, Japan, New Zealand, Spain, Taiwan, Ireland, Italy, Denmark, Finland, Sweden, UAE, Brazil, Ukraine, Norway, and Poland at the current time, and it is also set to expand to Germany later this year.