Apple Pay is expected to be available in 60 percent of retail locations in the United States by the end of the year, Apple's VP of Apple Pay Jennifer Bailey told Fortune today in an interview at the company's Brainstorm Reinvent Conference.
Since Apple Pay's 2014 introduction, Apple has worked to bring it to 24 countries around the world. Apple has to negotiate deals with each and every country where Apple Pay expands, so it's been a slow process, but growth is strong even outside of the United States.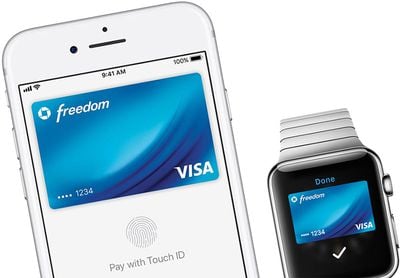 Apple has recently been focusing on expanding the usefulness of the Apple Wallet, which houses Apple Pay credit and debit cards. Apple Wallet is now being used for purposes like public transit, customer loyalty programs, student IDs (launching next week), and may soon expand to corporate access and hotel key cards. Apple's own campus permits employees to enter using Apple Wallet.
"It's a tremendous new area for us to focus on, which is really access," Bailey said.
According to Bailey, when Apple Pay was first introduced, Apple didn't approach the launch with the aim of disrupting the credit card industry. Instead, the goal was to work with credit card companies and introduce "great customer experiences."
Apple was uninterested in pursuing a bank charter, necessary for introducing Apple Pay as a credit card replacement option, because it didn't want to face regulation.
"When we thought about Apple Pay, we thought, there are a lot of payments out there that our customers already love and trust," Jennifer Bailey, Apple VP of internet services and Apple Pay, said Tuesday morning during Fortune's Brainstorm Reinvent conference in Chicago. "We don't sit around and think about, 'what industry should we disrupt?'--we think about, 'what great customer experiences can we develop?'"
When asked if Apple makes money from Apple Pay transactions, Bailey answered the question with a "perhaps," but said that other features in the Apple Wallet are about bringing more utility to customers and making sure people "love their iPhones."