Live Coverage of Apple's October 2018 iPad and Mac Event
Apple's "There's more in the making" event at the Howard Gilman Opera House in Brooklyn, New York, begins at 10:00 a.m. Eastern Time (7:00 a.m. Pacific Time), and we're expecting to see a number of iPad and Mac announcements today.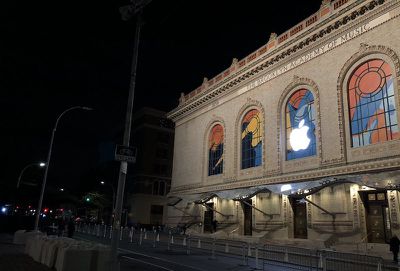 Later today will also see the release of iOS 12.1, bringing Group FaceTime, new emoji, live Depth Control in camera previews, and Dual SIM support for Apple's latest iPhones. Additional updates in the form of macOS 10.14.1, watchOS 5.1, and tvOS 12.1 are likely also coming today.
Apple is providing a live video stream on its website and via the Apple Events app on Apple TV.
In addition to Apple's video stream, we will be updating this article with live blog coverage—no need to refresh—and issuing Twitter updates through our @MacRumorsLive account as the keynote unfolds.
Highlights from the event and separate news stories regarding today's announcements will go out through our @MacRumors account.
Sign up for our newsletter to keep up with Apple news and rumors.
Apple's online store is currently down in advance of the event. It should be accessible again shortly after the keynote.
Live blog in chronological order is after the jump.

6:02 am: Members of the press are receiving their badges and being admitted into the lobby of the venue.




6:22 am: Attendees are now being admitted into the theater itself.



6:51 am: Apple's live stream is up and running. Currently just an Apple logo with music playing.
6:58 am: We're just two minutes away!
6:59 am: The event is beginning...
7:00 am: ...with a video of all the different Apple logos from the invitations (and more).


7:01 am: And now a video showing Apple users in various places around New York City, including the subway, the Guggenheim, and more.
7:02 am: Apple CEO Tim Cook comes out with a "Thank you! Wow! Thank you!" greeting for the crowd.


7:03 am: "Good morning! It is so great to be in New York. We love New York!"
7:04 am: He's touting the venue they're at in Brooklyn, NY. Talking about the creative community in New York, "and that's why we're here today to talk about our most creative products. And, of course, that all starts with the Mac."
7:04 am: "The Mac was the first computer that was designed for creativity and it's become one of the world's most essential creative tools."



7:05 am: Opening with a video of people who use a Mac for creativity.
7:06 am: It's part of the "Behind The Mac" ad campaign that Apple has been running recently.
7:06 am: 51% of Mac buyers around the world are new to the Mac. 76% in China.


7:06 am: Total active install base is 100 million Macs.


7:07 am: High customer satisfaction rates. Now talking macOS Mojave — "The best version of macOS by far. People are really loving it."
7:09 am: MacBook Air is first up.
7:09 am: "When Steve pulled that MacBook Air out of that envelope, it was clear that things would never be the same."


7:10 am: "Less could indeed be more. And it redefined the modern notebook in the process. MacBook Air has become the most beloved notebook ever."
7:10 am: "Now it's time for a new MacBook Air. One that takes the MacBook Air experience even further in the areas that are most important to our customers. And of course, what we all want in a MacBook Air, is a Retina display!"


7:11 am: An all-new MacBook Air with a Retina display with a whole lot more. Debuting with a video.


7:12 am: It is still slightly wedge shaped, with two USB-C ports on the side. We spotted a gold variant in the video.


7:13 am: The aluminum bezel is gone, with black display glass and borders that are 50% narrower. 13.3" display.


7:13 am: 4x the resolution as previously.


7:14 am: FaceTime camera still at the top of the display.
7:14 am: Touch ID!


7:14 am: A single sensor at the top right of the keyboard.


7:15 am: "The Air has the most secure boot process of any notebook."


7:16 am: The T2 system controller enables a lot of things, including "Hey Siri" and secure storage and booting.
7:16 am: New keyboard, larger trackpad with Force Touch.


7:18 am: 25% louder speakers than before, 2x more bass and wider stereo sound. Three-microphone array, improving FaceTime use and Siri use. Two Thunderbolt 3/USB-C ports. 8th-generation Intel dual-core i5. Up to 16GB 2133MHz memory.
7:18 am: Up to 1.5TB SSD, 60% faster than before.
7:18 am: 12 hours of wireless web browsing, 13 hours of iTunes movie playback.
7:19 am: New Air has 17% less volume than its predecessor, even with a screen size the same.


7:19 am: 15.6mm thick, down from 17.3mm. Weighs 2.75 pounds.


7:19 am: Quarter-pound lighter than the previous Air.


7:20 am: 100% recycled tin on the logic board, and 35% post-consumer recycled plastic.
7:21 am: Every Mac enclosure is made from aluminum. We've had to rely on mining high-purity ore, that is, until today. Apple's metallurgy team has designed a new alloy. Every new MacBook Air is made from 100% recycled aluminum.
7:21 am: And now a video!



7:24 am: 1.6GHz i5 processor, 128GB storage, 8GB RAM, starting at $1199, the most affordable Retina Mac we've ever offered.
7:24 am: Order starting today, available next week.



7:25 am: Here's the MacBook Air intro video: //www.youtube.com/watch?v=G7iI7YmIr30
7:25 am: And here's the MacBook Air detail video: //www.youtube.com/watch?v=hs1HoLs4SD0
7:25 am: Now the Mac Mini!
7:26 am: Showing the video of the new Mac mini flying in like a spaceship.
7:26 am: Only it's landing in front of a space gray screen, with matching keyboard and trackpad.


7:27 am: "I can't wait to tell you about the biggest update ever to the new Mac mini."
7:27 am: Every Mac mini starts with four cores. Six cores optional.


7:28 am: 8th-generation CPUs with 60% faster graphics. Five times faster than before.


7:28 am: 64GB of memory max.


7:29 am: SO-DIMMs, so memory is expandable. All-flash storage. SSD up to 2TB.


7:30 am: New thermal system with double the airflow. Gigabit Ethernet, four Thunderbolt 3/USB-C ports, HDMI, two USB-A ports. 10Gb Ethernet available.
7:31 am: They can be strung together, using multiple Mac minis for video editing or in a server farm.


7:32 am: 8GB RAM, 3.6GHz quad-core processor, 128GB storage for $799.


7:32 am: Order today, available November 7.


7:32 am: 60% post-consumer recycled plastic. The same 100% recycled aluminum.


7:33 am: Now talking Apple Stores... Today at Apple sessions.
7:34 am: Angela Ahrendts, head of Apple Retail, on stage.


7:36 am: Talking about recently opened Apple Stores and discussing classes and labs in the stores.
7:38 am: There's a new Sessions tab in the Apple Store app.
7:38 am: Sixty newly designed sessions coming to Today at Apple.


7:41 am: All retail locations run on 100% renewable energy.
7:41 am: (Which had been disclosed previously)
7:42 am: And Tim is back.
7:43 am: iPad!


7:43 am: "iPad is a magical piece of glass that magically transforms into anything you want it to be."
7:43 am: 400 million iPads sold.


7:43 am: More iPads sold than all the biggest notebook manufacturers.
7:44 am: Today's lineup: iPad Mini, iPad, iPad Pro.
7:45 am: Introducing all-new iPad Pro that "is gonna push what you can do on iPad or on any computer even further."
7:45 am: And here's a video. The leaks were right. Face ID, no Home button, thinner bezel, magnetic Apple Pencil.


7:46 am: This is the iPad we've dreamed about building from the very beginning.
7:47 am: Rounded corners on the display, using same technologies in the iPhone XR. Liquid Retina display.


7:48 am: Bigger display in the same footprint. 11" display in 10.5" footprint.


7:48 am: 12.9-inch display comes in a more portable package. Smaller footprint with same screen size.



7:49 am: 5.9mm thick, 15% thinner than 6.9mm of the old 12.9".




7:50 am: This is kind of an iPad X. Face ID retrained to work in portrait, landscape, attached to a keyboard. "Always right side up" — with no home button, which way is up? Every way!



7:52 am: Powered by A12X Bionic processor, more advanced than the iPhone XS. 10 billion transistors.
7:52 am: 8-core CPU, plus 7-core GPU.



7:52 am: Faster than 92% of all portable PCs sold in the past 12 months.



7:54 am: Apple's latest Neural Engine, with 5 trillion operations per second. Delivers to CoreML tasks, "not just faster than your last computer, but smarter and more capable."


7:54 am: 1TB of storage capacity available.


7:55 am: USB-C!
7:55 am: New capabilities, connecting to accessories... connecting to high-resolution 5K displays. Connects to data accessories and displays.
7:55 am: Charging out, can charge your iPhone from the iPad.




7:56 am: Second-generation Pencil. Magnets attach it to the iPad Pro. Automatically pairs and starts charging wirelessly.



7:56 am: Always charging, so it's always ready to go. Tapping the screen will launch instantly into the Notes app. Tap twice on it to switch modes. Switch from current tool to eraser in Notes.
7:57 am: Smart keyboard folio. Magnetically attaches and protects the front and back. Two viewing angles for lap or desk.





7:58 am: Says it's the best device ever created for augmented reality.
7:58 am: (Animoji and Memoji support, by the way)


7:59 am: Now talking about apps.
8:00 am: AutoCAD coming to the iPad "with performance as fast as the fastest PCs"


8:02 am: 2K Games exec on stage to demo a game.
8:02 am: NBA2K brings "console realism" to iOS. "This has never been possible on a mobile device before."



8:05 am: Steph Curry makes a buzzer beater... from downtown!
8:05 am: Adobe next.
8:06 am: Showing off Photoshop for iPad.


8:08 am: Making edits in 12,000x12,000 PSD, 157 layers, zooming through with no lag.
8:09 am: Double-tapping on the Apple Pencil can zoom out and in automatically.
8:10 am: Nine-feet x nine-feet at scale. Project Aero takes the PSD and can project it on a table. Animated butterflies, and use iPad to be cinematographer. Have to see it to understand, but it's cool looking.
8:11 am: The real Photoshop engine running on iPad Pro, reimagined "for the simplicity of touch."
8:11 am: Coming to the App Store in 2019.
8:12 am: iPad Pro video running.
8:12 am: Narrated by Phil Schiller, his first appearance today.


8:14 am: It has 102 magnets to connect the Folio and Pencil.
8:16 am: Not all recycled aluminum, but the excess aluminum is recycled back into the material used in the MacBook Air and Mac mini.
8:16 am: 11" starts at $799, 12.9" starts at $999. Orders start today, arrive November 7.


8:16 am: Current 10.5-inch remains at $649. LTE versions available.




8:17 am: Tim: One quick update... iOS 12 is off to an unbelievable start. More installs than any version in history.
8:17 am: Remaining on a tear. 60 percent of all iOS devices are already running iOS 12.
8:18 am: 12.1 shipping today. Group FaceTime and other features, including Dual-SIM support.
8:19 am: Going over the products announced today.


8:21 am: Lana Del Rey coming on stage for a musical performance.



8:30 am: Tim wrapping up. Thanking everyone.