Tim Cook Visits Europe Ahead of Brussels Privacy Conference
Later this week, Apple CEO Tim Cook is set to speak at the European Data Protection Conference in Brussels during the "Debating Ethics: Dignity and Respect in Data Driven Life" session.
Ahead of the event on Wednesday, Cook is in Europe visiting app developers and filmmakers who work with the iPhone. Cook has been sharing his European adventures on Twitter.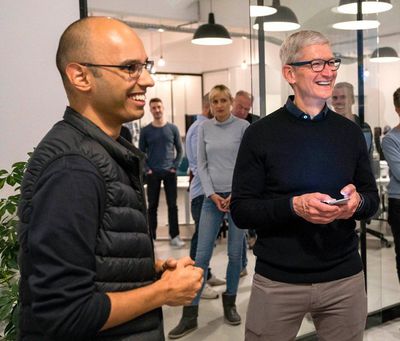 Cook visiting the developers behind Asana Rebel, a yoga app


Cook started off the week in Berlin, where he met with developer Peter Kolski and took a look at mauAR, an upcoming augmented reality app that will display the Berlin Wall as it was prior to its demolition in the 1990s.
Cook went on to visit the
Asana Rebel team
, who have created an augmented reality yoga app available on the iOS App Store.
After that, he stopped off in Paris where he met with French filmmaker Claude Lelouch, who shot his upcoming movie on the iPhone.
Cook then stopped by the offices of Foodvisor in Paris. Foodvisor
is an app
that is designed to analyze the nutrients in food through a photograph.
After visiting Foodvisor, Cook stopped by
L'Atelier des Artistes en Exil
in Paris, which showcases the artwork of artist refugees around the world.
Cook has one more day in Europe ahead of the Brussels conference, and he is planning to meet with French president Emmanuel Macron at the Élysée Palace tomorrow, where taxes and developer relationships may be topics of conversation.
Cook will be in Belgium on Wednesday, and following the conference, he may spend some more time in Europe before flying back to the United States to prepare for Apple's October 30th event in New York City.